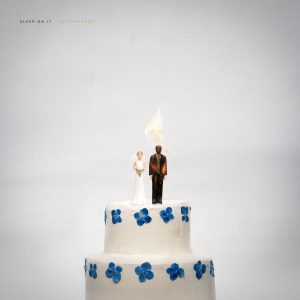 For anyone with a deep interest in pop-punk, the wait for the debut full-length from Chicago's Sleep On It has been one full of anticipation. Following a series of EP's, 'Overexposed' arrives with strong intentions from the quintet, yet sensibly doesn't attempt to stretch itself beyond the confines of the pop-punk and pop-rock formula.
On the surface, 'Overexposed' has hints of fellow Windy City bands Knuckle Puck and (early) Fall Out Boy. Thoroughly upbeat and lyrically earnest, the opening pairing of 'A New Way Home' and 'Window' sets the tone ideally, with the latter thriving off a monstrous, infectious hook.
In all honesty, there's little let up on 'Overexposed' as it fulfils its purpose of producing big choruses and songs that dig deeper than the usual pop-punk cliches, while Zech Pluister's vocal delivery is carried with conviction and maturity. His soulful narrative take on hopelessness, failed relationships and self-improvement (see 'Always Crashing the Same Car') gives the album a sense of realism.
The production work of Seth Henderson (Knuckle Puck, Real Friends) gives 'Overexposed' a hint of familiarity, for example, the crunching guitars on 'What We Stay Alive For'. While the album as a whole has a warm tone, making every drum hit efficient and every surging chorus flourishes with urgency. Yet, when combined with such a promising set of songs, it's clear Sleep On It are making good on their early potential.
From the melancholic tones of 'Photobooth' to the well-executed and effective 'Leave the Light On', to the euphoric delivery of the titular track SOI continuously hit it out the park. While in 'Fireworks', they have produced one of the best pop-punk bangers of 2017.
For some, Sleep On It might be playing it "too safe"; 'A Brighter Shade of Blue' is your expected acoustic ballad, but you can't fault the high level of consistency that the whole album offers. Although it won't send them straight up to the pop-punk big leagues, Sleep On It are certainly worth taking note of.
4/5
'Overexposed' by Sleep On It is out now on Rude Records (UK/EU) and Equal Vision (North America).
Sleep On It links: Website|Facebook|Twitter|Instagram
Words by Sêan Reid (@SeanReid86)