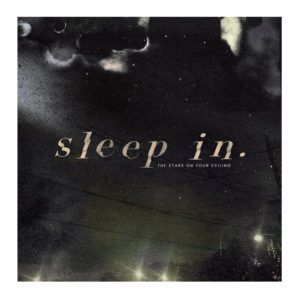 Ever since Sleep In. arrived five years ago with exciting debut LP 'Settling', there have been many to note the New Jersey band's potential. 'Settling' had a vibrant fire to its headstrong emo, a record that loved its influences. Graduating to 2017 EP, 'Tension & Release', the sound had been polished into something that, come a sophomore full-length release, would surely evolve into something very promising indeed.
'The Stars on Your Ceiling' proves to be not quite that, Sleep In. still largely present and correct in relation to what was presented on 'Settling', but that feels like a step back.
The melodies of 'A Million Messages' and 'Splitting Clouds' exemplify the way songs come across as fun but slightly lacklustre – as if they would benefit being redrafted, with new arrangements, or lyrics, or something. They're not inadequate – more like they don't feel quite enough, like an appetiser for a main meal.
Closest to suppressing the hunger is 'Deena', a blast of an opener that fizzes with joy and a real unshackled vibrancy that promises so much for the rest of the album. Unfortunately, 'Honest Eyes' is representative of the bulk of what follows, its prominent lead guitar forgettable and a low vocal melody one of Tom Fowler's most average.
'Anyway' is something of a miniature version of the record, its tantalising bed of hovering organ and picked guitar progressing to something that ultimately goes through the motions, and doesn't justify a rare four-minute length. The other 'long' track is the soft 'Let Me Let You Let Me', and it proves to be far more effective, a measured ballad that at least ends things on a high.
Sleep In. somewhat fail to live up to expectation on 'The Stars on Your Ceiling', but it doesn't mean the band doesn't possess talent. It's there in flashes and it will surely be back in earnest, but this record is too underwhelming and samey to be a suitable demonstration of it.
2.5/5
'The Stars on Your Ceiling' by Sleep In. is released on 22nd March on Know Hope Records.
Sleep In. links: Facebook | Twitter | Instagram | Bandcamp
Words by Peter Stewart (@PeteStew_)