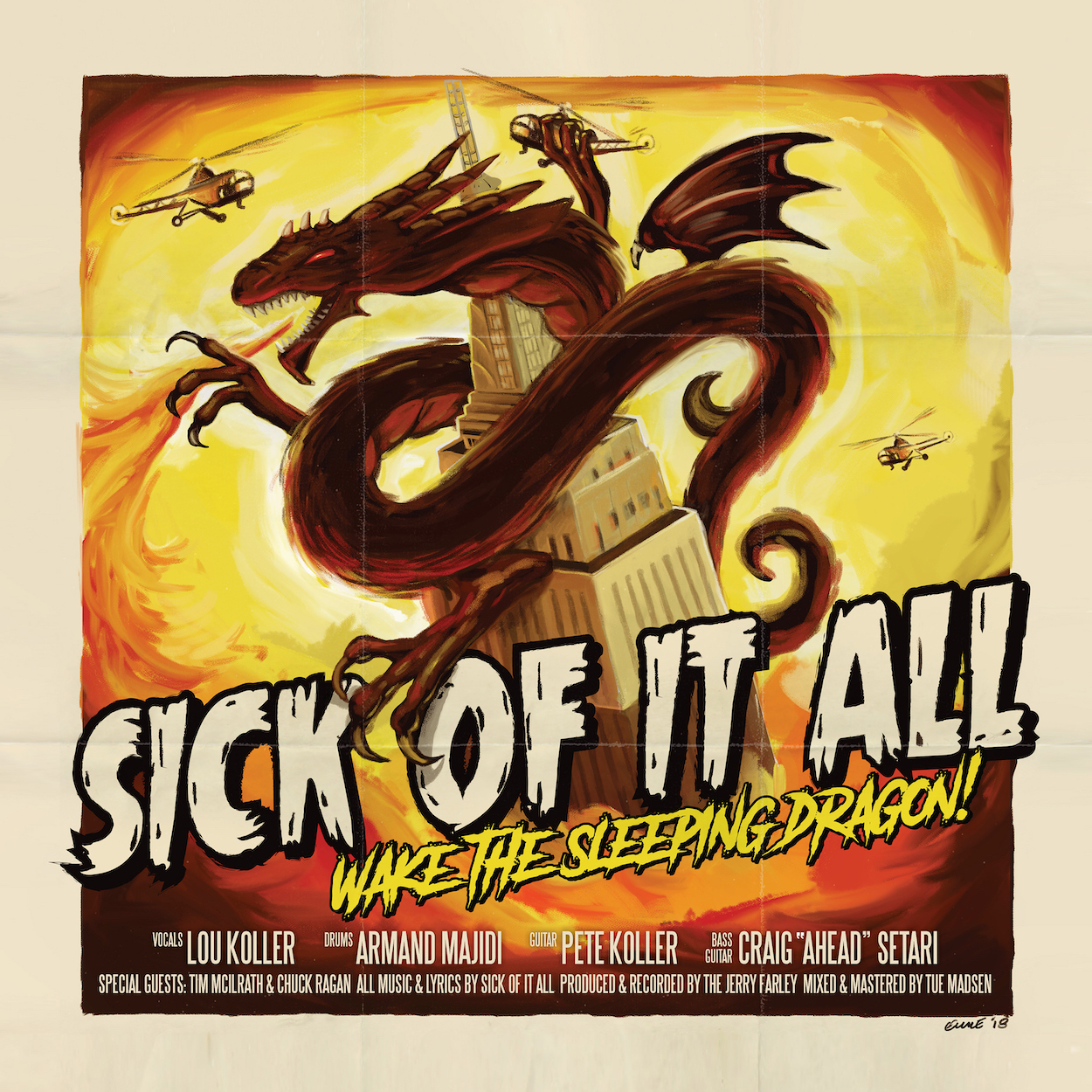 Sick Of It All appeared on the New York hardcore scene way back in 1986, built themselves a following and they're still going strong. Having celebrated their 30th anniversary with 2016's 'When The Smoke Clears' EP, twelveth full-length, 'Wake the Sleeping Dragon!' shows no sign of them slowing down.
With a line-up that's been stable since 1992 and a definitive style, songwriters Lou Koller (vocals) and Pete Koller (lead guitar) have kept things fresh by working closely with producer 'The' Jerry Farley, aiming for a more melodic sound. But don't worry, they haven't suddenly morphed into New Found Glory, (although the facile vocal on '2+2' sounds like parody project International Superheroes of Hardcore) as the record's tone is absolutely ferocious. Partly due to Tue Madsen's mix, partly because with 17 songs crammed into the 33-minute run-time nothing sticks around too long or, more importantly, derails the express train.
Every song is made up of hardcore punk riffing with a generous helping of gang vocals, but these elements are juggled in different ways to hold your attention. 'To The Wolves' sees the band at their most vicious. At the other end of the spectrum, 'Bull's Anthem' is a punky sing-along featuring guest vocals byRise Against's Tim McIlrath.
However, the album's greatest trick is using lyrics that weigh in on a raft of social issues. Yes, they've been around for three decades but they're writing about the issues of now, whether it's taking a swing at Trump's wall-building on 'Bad Hombres' or the design of their hometown on 'Robert Moses Was A Racist'.
It's a shame there's nothing that grabs you as firmly by the ears as classic 'Built to Last', but if that's the trade-off for such a solid, hard-hitting record, it was worth making. This old dog might not have new tricks but can still bite.
3.5/5
'Wake the Sleeping Dragon!' by Sick Of It All is released on 2nd November on Century Media Records.
Sick Of It All links: Website | Instagram | Facebook | Twitter
Words by Ian Kenworthy (@WhisperingSand)