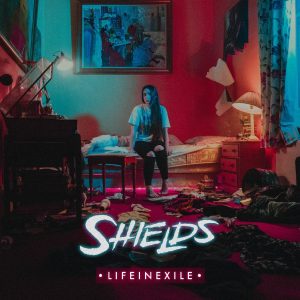 The last few months have been tough for Shields. One of the UK's most promising up-and-coming metalcore acts were met with tragedy when guitarist George Christie took his own life in late January. The scene lost a talented musician, and his last contribution to a band on the verge of breaking through into great success is captured in 'Life in Exile'.
The band's debut full-length incorporates everything they have had to offer since founding in 2013. The cutthroat, deathcore-esque vocals of Joe Edwards fit perfectly with the over-driven instrumentation, and have a great balance with guitarist Sam Kubrick's clean performances in the choruses. Though the dueling vocal styles are employed by almost every band of their ilk, Shields really shine through on their instrumentals. Straying far from generic while keeping things accessible, the band rip through every complex rhythm and riff. 'Black Dog' is a fantastic example of this, hitting with immeasurable force in the breakdowns, offset by the dissonant strumming and picking in the background.
'White Embers' shows a more melodic side to the band, offering up what can maybe be described as a 'soft' song, but still managing to explore the boundaries of metalcore with various vocal effects and synth tracks. The track also highlights the more emotional content of the album, which is capped off by the monolithic closer 'Aokigahara', a reference to the Japanese suicide forest. Numerous references to mental health and death can spotted all across 'Life in Exile', but it all culminates in this heart-wrenching closer.
Out of tragedy comes new strength, and 'Life in Exile' is a testament to this. Though it has the sorrow of being Christie's last work with the band, it's their strongest offering yet, and sets them up to take the UK metal scene by force. Impressive performances from every member twinned with mature lyrics and quality production render Shields the voice of the future.
4.5/5
'Life in Exile' by Shields is out now on Long Branch Records.
Shields links: Facebook | Twitter | Bandcamp
Words by Ben Mills (@BenMills28)