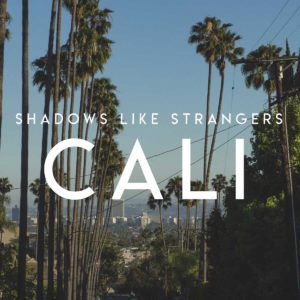 Inspiration can come in many forms. In the case of Shadows Like Strangers' frontman Jezza Bruce, imagining movie scenes in sunny Southern California helps him to create the tracks making up their new album 'CALI'. The Nottingham based four-piece band have poured their California dreams into their debut album, creating something that is rather polished.
The album starts off brightly with 'Counterpart', which is not only upbeat but also appealing to a number of fans, and could definitely cross over the genres of rock and pop. This is a constant trend throughout the album. Tracks such as 'Love Again' and 'Night Vision' (which was the title track of the band's first EP) provide a nostalgic pop-rock feel. Despite this, tracks such as 'Coast to Coast' and 'The Art of Falling Down' show that Shadows Like Strangers are fully capable of creating a heavier sound, and gives the band an excuse to turn up the gain at their gigs.
Leadoff single, 'A Way Home' takes a more laid back approach and is certainly reminiscent of a 90s acoustic ballad, and does this style very well. Having a track like this highlights the diversity of a band, and showcases their ability to write catchy pop tunes but not be afraid to strip back the instrumentation.
Despite 'CALI' showing that Shadows Like Strangers can create an album that is accessible, it does have the problem of not really standing out. Unfortunately, it doesn't play on the listener's curiosity and relies too much on a sound that is already popular and, at times, unoriginal. Tracks such as 'It Doesn't Matter At All' and 'Dead Happy' fail to create a lasting impression.
However, you have to give SLS some leeway as it is still very much early days for the quartet. Although they lean on familiar pop-rock traits, there are hints of potential throughout. A blend of further experimentation and several miles on the road should put them on the right track.
3/5
'CALI' by Shadows Like Strangers is released on 1st February.
Shadows Like Strangers links: Website | Facebook | Instagram
Words by Evelyn Manktelow.