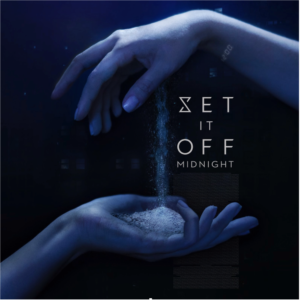 While the issue of rock bands "going pop" is seemingly a current trend, Set It Off have confidently embraced pop tropes for quite some time and this fourth full-length is no different. 'Midnight' is unashamedly pop to the point you have to question how or why Set It Off were ever considered a rock band? While the band's early releases played off pop-rock traits, the same can't be said for 'Midnight'.
At 15 songs deep, it's a testing set of overly-produced songs that distract from the serious lyrical nature on show. For example, 'Lonely Dance' sees Cody Carson sing of social anxiety but is spoiled by the use of latino brass. Likewise, 'Happy All The Time' offers some personal rejoice as Carson realises it's ok to be sad yet it's juxtapositioned by celebratory horns and a gospel choir.
To Set It Off's credit, songs such as 'For You Forever' and 'Midnight Thoughts' come off as admirable, groove-tinged pop songs with annoyingly catchy hooks. Whereas 'I Want You (Gone)' sweetly plays of a summery, 80's beach pop vibe. Yet as an album, it's front-loaded by 'Hourglass' and 'Killer In The Mirror' that, on the surface, could be performed by any boyband, past or present. Later on, 'Raise No Fool' and 'Stitch Me Up' don't fare any better.
It's clear what the intentions of the LA-based quartet are – to produce a solid set of slick of pop songs. And while 'Midnight' certainly ticks that box, for some (including this writer) it will be a painful listen. It's the type of record that will be eaten up by the band's fanbase, yet is likely to be loathed by critics. The main issue is the polished production that, for the most part, pushes Carson's smooth vocals out front and centre, leaving any reminiscent of a band behind.
While their contemporaries have pulled off the transition from rock to pop, 'Midnight' is a lacklustre and quickly forgettable record.
2/5
'Midnight' by Set It Off is released on 1st February on Fearless Records.
Set It Off links: Website | Facebook | Twitter | Instagram
Words by Sêan Reid (@SeanReid86)