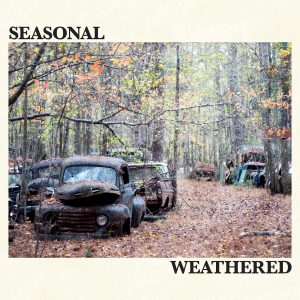 Seasonal's 'Weathered' EP doesn't waste any time diving head first into a purely pop-punk sound. It's high energy from the get go and as soon as 'Strangers' starts with frontman Matt Truseler singing "so I'm feeling lost" it's clear in which direction this is heading.
There's nothing particularly unique about the record, but what it does it does very well. Upbeat, catchy, short and punchy: each song is a driving force, clean in execution and filled with personality. The only time things take a breather is midway through 'High & Dry', with slowed down simple guitars and layered harmonies.
There's also vivid imagery in the lyrics. "There's so much I would like to know, like if we share more than chromosomes or the cocktail that makes up our flesh and bones" is just one example. It takes things one step further than the usual lyrics about relationships we've heard repeatedly before, including on Seasonal's previous release 'Bloom'. That's not to say we've escaped the clichés, however ("I spin like a broken record"). The balance is achieved on 'Twelve', a song which although dedicated wholly to a breakup, handles the emotion with a realistic maturity.
It's the sort of music you'd have adorned your Myspace profile with back in the day; the kind whose heartfelt lyrics you'd fill your bio with. The likes of 'Drift' hark back to a time pre-Spotify when the highest highs of music-related excitement came from checking out a relatively unknown band at your local venue. That's no bad thing. It's a nostalgic sound, but still feels fresh and contemporary.
3/5
'Weathered' EP by Seasonal is out now on Undead Collective.
Seasonal links: Facebook | Twitter
Words by Kathryn Black (@kathrynblack07)