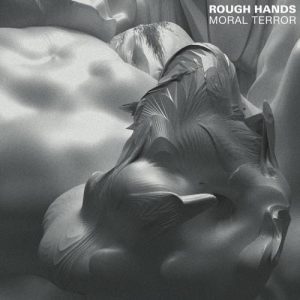 Though tragically under-appreciated, Rough Hands' 2016 album 'Let Me Win Your Hearts And Minds' was an example of British hardcore at its most electric, pulling from Converge and The Dillinger Escape Plan and putting a spin on it to keep the sound as visceral as possible. It was definitely a step towards the level of quality that the UK's thriving hardcore scene wanted, and it seems as though it paid off – now signed to Venn Records (AKA the starting block for everyone who's anyone in exciting British music), Rough Hands are already making serious advancements with 'Moral Terror'.
The biggest factor of that on this new EP comes in the sound, now moving towards a fusion of Will Haven's black, oppressive atmosphere and Code Orange's skull-crushing technique. Tracks like 'Anodyne' and the title track ooze with evil intent and monstrous riffs, and even at only twenty-two minutes, there's still plenty to dig into. If anything, brevity is another strength, in its condensation and refinement of every element to almost the very peak of its potential.
Admittedly it would be nice to see how Rough Hands could branch out though; 'Symptoms Of Regression' is the only instance of that at present with its bleak, ghostly atmosphere. If that could be built on and interwoven into their heavier side in future, Rough Hands could hit something pretty special, something they're just shy of here. Still, what they've got for now is enough, and the added weight and feral, red-raw intent compared to their last effort is already enough to show that this is a band steamrolling over any preconceived notions of gradual progress.
It's enough to suggest, even at a relatively formative stage like this, that Rough Hands could be the go-to name in underground heavy music. They've got the skill and the fluidity to adapt and change while still maintaining their weight, and with not a bad song on this EP, their track record is becoming all the more gleaming as time goes on. And if there's one thing that 'Moral Terror' does better than anything else, it's prove that Rough Hands have been slept on for far too long.
4/5
'Moral Terror by Rough Hands is released on 13th April on Venn Records.
Rough Hands links: Facebook |Twitter | Bandcamp
Words by Luke Nuttall (@nuttall_luke)