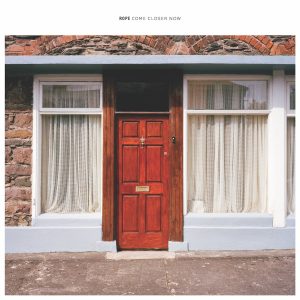 South Wales trio Rope are back with their sophomore album 'Come Closer Now', and a fleshed out line-up with the permanent addition of live guitarist Luke Davies. Recorded live in the studio over three days in 2017, it makes for an impressively expansive listen and further develops their uniquely epic hardcore-esque sound. This a release that demands attention and immersion on the part of the listener, the six tracks weighing in at close to 40 minutes.
'Every Good Boy Deserves Food' opens proceedings with a throbbing bass line pounding out a hypnotic opening to a slow-boiling track with raspy shouted vocals and brooding rhythms. It is followed by the epic 'Exit Interview'; its slow grind gathering intensity as it builds into a hypnotic melting pot of emotion.
Although 'Exit Interview' comes in at a weighty 8 minutes it is dwarfed by the massive 'Port Talbort'. The track starts out painfully slowly and grinds along repetitively, but succeeds in evoking a sense of desolation, especially when the dialogue kicks in. It is less immediate than the other tracks, requiring a patient ear, but is no less rewarding as a result.

Sandwiched between the two epics are 'Human Resources', with its Nick Cave vibe, subtly shifting guitar lines and emotionally edged vocal, and the upbeat indie rock of 'Manouvre' to break up the intensity. The record finishes with 'The Rope', a powerful blend of melancholic piano and crashing riffs to round it all off in style.
'Come Closer Now' succeeds in being something of an anti-hardcore record with its sheer size and weight, yet remains engaging, thoughtful and pretty damn powerful. Don't be put off by the length, this is definitely worth giving a listen.
4/5
'Come Closer Now' by Rope is out now on Truthseeker Music.
Rope links: Facebook | Twitter | Bandcamp
Words by Edward Layland (@EdwardLayland)