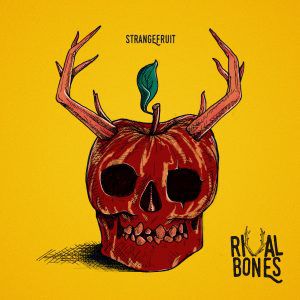 With only two members, you'd be forgiven for thinking Liverpool's Rival Bones would lack power. On new EP 'Strangefruit', they create songs out of massive hard rock riffs, thundering drums and a vocal style containing the spirit of Chris Cornell. Power is their byword.
With a clutch of singles under their belt, Rival Bones are following up last year's self-titled release with four songs that fall on the spectrum somewhere between the guitar-based battery of '68 and the big-sounding musings of Royal Blood. When the band claim they will please fans of Audioslave and Queens Of The Stone Age, they're not wrong, while not aping either of these bands, you can feel their influence throughout.
Singer and guitarist James Whitehouse's songwriting has shifted slightly. Sticking with the Chris Cornell motif, it's like the difference between 'Louder Than Love' and 'Badmotorfinger', a similar approach but more refined. Lead single 'Beautiful/Dangerous' feels more layered yet still manages to have the heft of a Pulled Apart By Horses single.
https://youtu.be/BqZW8J-gjKA
Never ones to shy away from big riffs, this time Whitehouse has turned the riff-o-meter up to 11, especially on 'Tie So Tight' where the enormous paint-stripping guitarwork just keeps coming, twisting and turning for the biggest impact. It's an absolute beast. Likewise, Chris Thomason's drums add drive, especially on the stompy 'Pull Me Under'. It's here that the Queens of the Stone Age stylings are most keenly felt (the solo on sounds suspiciously similar to 'Burn The Witch') but this isn't a bad thing, it adds extra depth to the band's sonic palette.
Where 'Strangefruit' really excels is Whitehouse's vocal delivery. The subtleties in his voice add clever little hooks, particularly on 'Hot Blooded' where he sings an extra word in just the right place. At times background vocals are a little heavy-handed, but it's a minor complaint.
By tightening up their sound and emphasising the smaller details, Rival Bones have created an excellent, satisfyingly powerful EP.
4/5
'Strangefruit' EP Rival Bones by is released 29th November on Alya Records.
Rival Bones links: Website | Facebook | Twitter | Instagram
Words by Ian Kenworthy (@WhisperingSand)