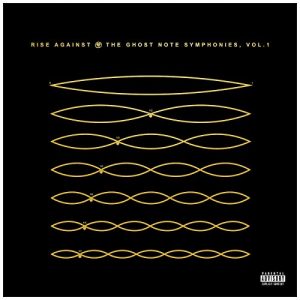 In the 80s, it was all "down with Thatcher and Reagan". Then the 90s and early 2000s brought us the Bush family, and punk was screaming about their questionable war policies. And now, in the 2010s, we've got Trump. Politics and angry punk anthems are destined to be bound together forever, and Chicago's Rise Against have been prominent protestors for the last twenty-or-so years.
Following on from last year's lukewarm 'Wolves', an album that was sonically more akin to a Jack Russell than its namesake, Rise Against are attempting something a little softer this time around with 'The Ghost Note Symphonies Vol. 1',  a compilation of reimagined classics from every era of their impressively long career.
In terms of "classics", the tracklist leaves a little too much to be desired, featuring four songs from 'Wolves', and skipping over two of the band's most successful albums, 'Siren Song of the Counter Culture' and 'The Sufferer & the Witness'. The slight promise of a second volume lends itself to the hope for these albums to get the reimagining treatment in the near future.
The tracks that did make the cut aren't far enough off of simple acoustic recordings to really justify the label of "reimagined". With a couple of exceptions, the tracks include an additional stringed instrument, or a kick and snare. The most interesting song is 'Faint Resemblance' from debut album 'The Unravelling', which has gone from rousing hardcore punk anthem to YouTube-esque ukulele cover.
Still, there's something about these versions that do cement what Rise Against have always been about. There's a very grassroots, soapbox type vibe to a lot of the tracks, almost as if vocalist Tim McIlrath is performing to thirty people on Pennsylvania Avenue. In this sense, 'The Ghost Note Symphonies' leans even more on nostalgia than a standard compilation album, but the band are sincere enough in their approach that it's worth picking up for any Rise Against fan.
3/5
'The Ghost Note Symphonies Vol. 1' by Rise Against is out now on Virgin Records.
Rise Against links: Website | Facebook | Twitter | Instagram
Words by Ben Mills (@BenMills28)