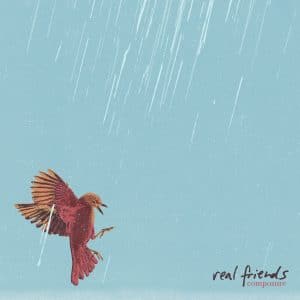 Ever since emerging out of Illinois with a handful of impressive EP's, Real Friends' have never quite matched the same urgency and passion of their earlier work. However, on their third full-length, 'Composure,' they have come into their own with a set of radiant and emotional songs, carried with a host of memorable hooks.
For the members of Real Friends, 2017 proved to be a testing year, especially for vocalist Dan Lambton. With a history of manic episodes, insomnia, and panic attacks, Lambton's relationship with his bandmates became strained, resulting in a brief yet quiet hiatus. Nevertheless, thanks to the support of the band and their label, Lambton would be eventually be diagnosed with Bi-Polar Disorder.
Having reconvened, 'Composure' is Real Friends at their most honest with Lambton's troubles serving as the lyrical catalyst. From escaping his problems ('Me First'), pretending everything is fine ('From The Outside' and 'Smiling On The Surface') and losing trust ('Ripcord'), Lambton's struggles build a brave, occasionally relatable, narrative.
Throughout, his words are complemented by a pop-rock driven sound that sees the quintet put more emphasis on bold melodies. The aforementioned 'From The Outside,' along with 'Hear What You Want' and 'Stand Steady' thrive on catchy, impressionable hooks that never wear thin. While Brian Blake's drums and the guitar work of Eric Haines and Dave Knox benefit from producer Mike Green's expertise; giving weight to every riff, melody and drum fill.
In a time where the stigma around mental health is gradually regressing, Lambton and company should be applauded for their direct and personal narrative on their personal issues. Admittedly, there are parallels between 'Composure' and Paramore's 'After Laughter,' as both shield the sensitive issue of mental health with a vibrant, poppy sound. Nevertheless, Real Friends show they've come out at the other end, and are defiant as ever. 'Composure' is emotionally-charged melodic pop-rock in its purest form.
5/5
'Composure' by Real Friends is released on 13th July on Fearless Records.
Real Friends links: Website | Facebook | Twitter | Instagram
Words by Sêan Reid (@SeanReid86)