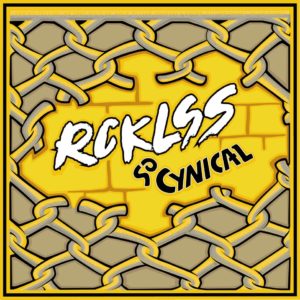 Self-described 'heavy pop' band RCKLSS are clearly aiming for the teenage market with their debut EP 'So Cynical'. The Brighton quartet go for singalong choruses and high tempo pop-punk, a formula that's worked well for the likes of All Time Low and You Me at Six over the last decade.
Thirty seconds into opener 'Every Time', it's immediately clear that the band are looking back to the pop-punk stalwarts of the mid-noughties. There are shades of 'Infinity on High'-era Fall Out Boy with hooks that are unashamedly pop and an unmistakable American twang to Matty Halliwell's vocals. While 'Animals' feels less generic and more original than its predecessor, raising hopes for the rest of the EP.
Things get better still – there is a sense that the EP is building up to 'Struggle'. Starting off with atmospheric piano, vocals are then invited in. The lyrics are of the "lay me down/'cause I am alone" variety – not particularly novel, but they fit the tone. After a couple of minutes, with the introduction of the drums, it becomes more intense, striking more of an emotional reaction than in the preceding tracks.
'Tell You' contrasts sharply with 'Struggle' as it kicks in straight from the off. It returns to that mainstream pop-punk sound, but it's a marked improvement on 'Every Time'. The catchy beat and chanted vocals would undoubtedly go down well in an arena environment. 'Sorry For Trying' and 'Empty Space' culminate the EP, the latter particularly impressing. Starting slowly, it gradually builds up to an impassioned second half, Halliwell protesting that "the empty space you left is killing me".
RCKLSS are at their best when they ditch the meat-and-potatoes pop-punk, as they did with 'Struggle' and 'Empty Space' and inject more individuality into their music. It's a release from a band still finding their feet. There's clearly potential there, they just need to keep being more adventurous in developing their own sound.
3/5
'So Cynical' EP by RCKLSS on 1st February.
RCKLSS links: Facebook | Twitter | Instagram
Words by Adam England (@AdamEnglandSO)