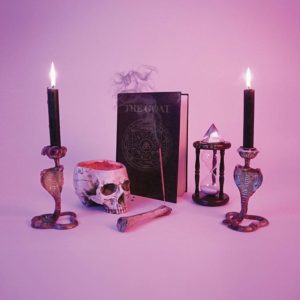 As their namesake suggests, Puppy are fun, loveable and, given half a chance, they chew through everything. We're talking riffs here, the London power-trio grab you by both ears with their brand of heavy metal guitar abuse.  Having caught the attention of Spinefarm Records with 2016's EP 'Vol II', their career has been on an upward trajectory. Recent tours supporting a diverse range of bands whetted the appetite for debut album 'The GOAT' and it doesn't disappoint.
Puppy use a logo blatantly winking at Def Leopard and a quick scroll through their music videos reveals hijinks galore, so it's fair to say the band don't take themselves too seriously. What they do take seriously is riffs. Popular single 'Black Hole' has mountains of them, with a great big riffy outro for good measure. It's an extremely catchy style, but importantly it's not the only sound in their repertoire.
Looking for something to bang your head along to? Try 'Vengeance' or 'World Stands Still'. Fancy a bit of grubby shredding? You'll find it on 'I Feel An Evil'. Things slow down on 'Just Like You' so Will Michael can show off his bass skills, but it's never long before Billy Howard's drumming whips the pace back up.
When Jock Norton isn't cranking out the Zeppelin-troubling fretwork, he provides lead vocals and it's here the band might prove divisive; the singing is harmonious and an unusual fit, imagine a 90's grunge record or even the era's pop-rock scene. Yet, it works really well, giving the twelve songs a slightly nostalgic air and fitting snugly with the pleasing production. It's an unexpected sound but a powerful one.
'Nightwalker' shows just how well this softer side works. Similarly, the viciously titled 'Bathe In Blood' ends up as one of the loveliest songs here, proving that while 'The GOAT' is a gleeful album with its heart in the right place, what makes it stand out is that Puppy know it.
4/5
'The Goat' by Puppy is released on 25th January on Spinefarm Records.
Puppy links: Facebook | Twitter | Instagram | Bandcamp
Words by Ian Kenworthy (@WhisperingSand)