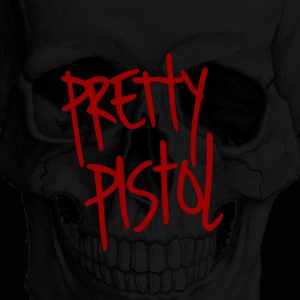 Don't blink. This is fast and furious stuff from South London quartet Pretty Pistol on their latest EP of hard-hitting garage punk. The gloriously named Laura Le Rox takes centre stage with a visceral vocal display, as they crash frenetically through the four tracks on offer in a riot-filled, but variety-lacking ten minutes of quick-fire punk.
'Cry Wolf' kicks it all off with a frantic 1:40 of ragged rock riffing and insistent vocals. It's a vibrant start and is an instant earworm with its refrain of "Cry Wolf! Cry Wolf!"; sometimes less is more.
'Drive Me To The Dogs' follows in quick succession with a quality bass line and a sinister guitar sound to give it an undercurrent of night in the city danger. It is a little less punky, but is a driving rocker that follows the straightforward approach to decent effect, despite being on the dark side. Another quality bass lick then introduces 'Hurricane', an angular mid-paced rocker with an urgent vibe and more aggressive vocals.
'No Guts (This Is Glory)' finishes it all off in classic punk rock style, with more abrasive riffing and vicious vocals. Although it is all energetic and extremely punchy, the lack of versatility does start to wear a little thin by the end. After less than ten minutes it is a sure sign they need to explore their songwriting a little deeper.
'Welcome To The Dead Club' is a likeable enough record, doing exactly what it sets out to do in a rapid flurry of punky riffs and attacking vocals. However, it is all a bit one dimensional, so despite the potential on display, they're going to need a few more strings to their bow on future releases.
3/5
'Welcome to the Dead Club' EP by Pretty Pistol is out on 13th April on SaySomething Records.
Pretty Pistol links: Website|Facebook|Twitter
Words by Edward Layland (@EdwardLayland)