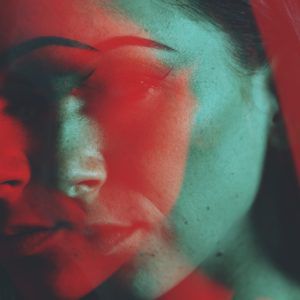 Polar, the London-based post-hardcore band have redefined themselves with their latest release, 'Nova'. They've written twelve hardcore tracks with an experimental spirit that sees them combine genres in an unexpected way.
After the stunning introduction from 'Mære', 'Devil' explodes as if from nowhere. Adam Woodford's vocals are powerful but clear in their delivery. Subtle changes in the synths as the chorus is introduced hint at what's to come over the next ten tracks. While not as brutal as a typical hardcore song, the energy in the recording creates a huge impact – it's clear that Polar are going somewhere.
After the clever guitar licks of 'Cradle', the production of 'Drive' switches things up. The thought and time that's been put into this record is clear, from the chugging guitars to the experimental reverb and EQ. From the outside, Polar look like any other hardcore band, but on second inspection the experimentation and creativity present make a pleasant surprise.
'Adore' is yet another explosive tune with an impressive drum track. As the LP progresses, Woodford's vocals become harder to discern but the energy is present throughout. Following this is the delicate 'Sonder'. A stunning interlude track, it effortlessly changes the tone of the record.
The muddy effects throughout 'Amber' grab attention and refuse to let it wander. However, the second half of 'Nova' doesn't quite have the same hold over us. While the sound of 'Prey' is huge, the experimental angle seems to have been played out.
From the quiet of 'Dusk', 'Midnight' explodes into being. It's a clever extension of the previous track and the huge sound is enjoyable, but the LP starts to grate as each song blends into the next. 'Nova' is a good effort from Polar, with its clever tricks and creativity. It's high-octane and enjoyable, proving a maturity from the band that was unexpected. While there are a few moments that could be more exciting, the London five-piece have created something excellent.
3.5/5
'Nova' by Polar is out now on Arising Empire. 
Polar links: Website | Facebook | Twitter | Instagram
Words by Dottie Giles (@DottieG19)