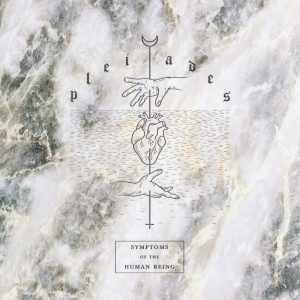 Post-rock is often thought of as a mellow and subdued genre. Manchester's Pleiades describe themselves as being a post-rock influenced post-hardcore band, which is an apt description, but there's an immediacy and intensity to the music on their debut EP, 'Symptoms of the Human Being' that might not normally be associated with the genre.
The guitar tone, expansive soundscapes and subtle attention to detail are there, but the most important thing Pleiades have learned from post-rock is song structure. The progressive layering of musical elements is implemented to great effect here and combines with angular riffing and sheer emotion to create a sound that's truly interesting.
There's even the inclusion of exceedingly gentle, poppy melodies on second track 'Only Second Cousin', complete with "la la la"'s. These work well with the track's loud/soft dynamic going from verse to chorus.
[bandcamp width=100% height=120 album=3652119162 size=large bgcol=ffffff linkcol=333333 tracklist=false artwork=small]
The drumming on 'Symptoms…' is a particular highlight, especially due to how prominent it is, coming almost to the forefront on 'The Leaves Won't Land'. The track also features a particularly impressive vocal performance, which is beautifully restrained for the most part but allows for a few moments where the extent of Andy Calderbank's ability is shown. After much build-up the track finally erupts in true post-rock fashion, reaching a searingly emotional end section where Calderbank's non-clean singing abilities are shown to be more than up to scratch.
Final track 'Living With Familiar Machines' is just as intense as the rest of the EP, combining the exceptional musicianship and untethered emotion that's been present throughout. At eight minutes long, it moves through several different sections, always keeping things interesting, but is structured cohesively as a song.
'Symptoms of the Human Being' is an extraordinary debut EP from a band who've yet to even sign to a label. If they can produce material of this standard so early in their career, then great things lie ahead for Pleiades.
4.5/5
'Symptoms of the Human Being' EP by Pleiades is released on December 13th.
Pleiades links: Facebook | Soundcloud
Words by Alan Cunningham (@funeral_polis)