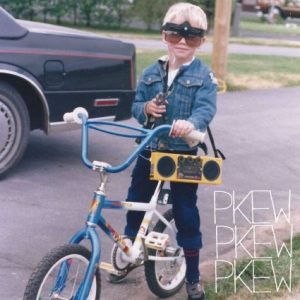 When bands return to similar themes throughout an album, or recycle the same riffs, or make reference to previous songs, they're usually lauded for their creativity and vision.
Step forward Canada's Pkew Pkew Pkew, who do all of these things yet still sound like a lobotomised frat party. And it's the sort of party where you spend your life waiting for an invite.
Silly, irreverent and genuinely very funny, 'Pkew Pkew Pkew' features 12 boozy anthems that will make you smile like a maniac and get you singing-along instantly. It's undemanding stuff; there's no grand plan or big message, just a dozen super-short rough gems – mostly about drinking or skateboarding – that demand to be sung loudly, arm-in-arm, with strangers in the pit.
[bandcamp width=100% height=120 album=2026708847 size=large bgcol=ffffff linkcol=0687f5 tracklist=false artwork=small]
Yet while the self-titled is superficially unchallenging, Pkew Pkew Pkew possess some sharp minds – proving it takes some clever guys to make music this dumb. The one-two of 'Asshole Pandemic' and 'Prequal to Asshole Pandemic' (tracks 2 and 3 respectively), details the trials and tribulations of living with a dreadful neighbour. They payoff? That Pkew Pkew Pkew were even worse in the first place. Coupled with some razor sharp songwriting, it makes for a winning combination. They're a talented bunch too; just take the outrageous guitar solos on the likes of 'Blood Clot' and 'Glory Days'.
There's even time for flashes of insight and pathos; albeit twisted and fleeting. "We don't make much money; that should come as no surprise" they sing on the excellent 'Before We Go Out Drinking', while on 'Kathie Lee and Hoda' they conclude "…What's wrong with my life? It's the debt and depression, decisions I've made" (again, offset by the desire to live 100% in the here and now with the reasoning "Fuck it, I'll worry about that shit some other day" ).
The best thing of all though; this year I'm going to FEST and Pkew Pkew Pkew are on the bill. Goes without saying, but you'll find me down the front, beer(s) in hand, having the time of my life.
4.5/5
'Pkew Pkew Pkew' by Pkew Pkew Pkew is released on June 10th on Royal Mountain Records.
Pkew Pkew Pkew links: Facebook | Twitter | Bandcamp
Words by Rob Mair (@BobNightMair)