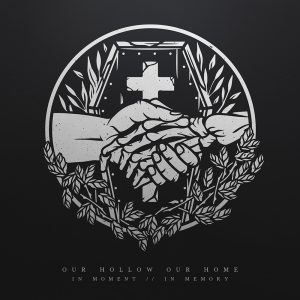 With Architects and Parkway Drive leading the current wave of metalcore, opening up new doors for the genre, there are a plethora of bands looking to follow a similar path. When Southampton's Our Hollow, Our Home introduced themselves with 'Hartsick' last year, it was clear they had something about them that stood out from the pack. Now 18 months on, they've return with a second full-length – 'In Moment // In Memory'.
Although they stylistically don't reinvent the wheel, OHOH have a tendency to pull you in over the course of 46 minutes. This is mainly due to the lyrical weight that threads the album together. In short, it follows the five stages of grief that guitarist/vocalist Tobias Young experienced following the death of his father due to cancer; denial, anger, bargaining, depression and acceptance.
From his world crashing down ('In Moment') to wishing to have them back ('Speak of Sorrow') to finding comfort on album highlight 'Parting Gift', Young and company paint a detailed narrative that is well executed. The final trio of 'Father & Ghost', the aforementioned 'Parting Gift' and 'In Memory' are especially noteworthy, as they are carried with cathartic fulfilment.
As for the band's sound, they tick all the tropes of what to expect from a metalcore band. Throughout Connor Hallisey's screams and growls are vicious yet complement Young's clean, melodic hooks. While  Josh White supplies a host of visceral riffs alongside Nick Taliadoros' thick drum work and Bobby Brooks' dense bass lines. Collectively, OHOH are a raw, monstrous unit that constantly delivers. 'Love Loss' has anthemic tendencies with its gang vocals. Whereas songs such as 'Wraiths' and 'Divisions' are razor-sharp blasts and 'Weight & Carriage' serves as a towering onslaught of bitter angst.
Overall the muscular weight, both musically and lyrically, makes 'In Moment // In Memory' a second successful outing for Our Hollow, Our Home. Although they haven't completely shaken off their influences, the Southampton outfit are heading in the right direction.
4/5
'In Moment // In Memory' by Our Hollow, Our Home is out now on //Hollow Music.
Our Hollow, Our Home links: Website | Facebook | Twitter | Instagram
Words by Sêan Reid (@SeanReid86)