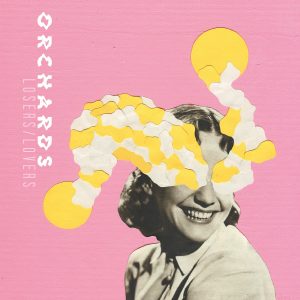 Orchards have been labelled by many as "ones to watch" and rightly so. Through a smattering of singles and strong live outings, the Brighton-based quartet have built quite a buzz over the past 18 months. Now part of the independent juggernaut that is Big Scary Monsters, their long-awaited debut EP is seeing the light of day.
'Losers/Lovers' is an infectious balance of sugary indie-pop melodies and math-rock twinges. As 'Luv You 2' opens with a celebratory "woooo!" Orchards are quick to counter the summer party vibe with sincere lyrics of lost love, with its crescendoing finale capturing Lucy Evers' emotional release. It nicely sets the tone for the remainder of the EP as songs such as 'Drama King' benefit from a ticking groove and drifting guitars.
Yet it is on 'Double Vision' where the four-piece come into their own. Its playful melody, calypso-esque guitar picks, and riveting bassline prove to be truly compelling. Undoubtedly, there has been a conscious shift to hone in on melodies. For example, 'Age of You"s is carried blissfully with subtle math-rock dashes. While the trio of past singles, 'Peggy,' 'Honey,' and 'Darling' show the slight shift, highlighting an innocent experimental approach, they're not disconnected from the rest of 'Losers/Lovers.' Most notably, 'Honey' and 'Darling' adds to the consistency here.
At the core of these eight songs is the soulful voice of Lucy Evers. Sincere, honest and relatable, songs like 'Be Here' sees her speak frankly about insecure relationships ("you've not been here lately"). While 'Double Vision' focuses on Evers' depression. Overall, her words are used as therapy, adding substance to pop-centric sound.
From start to finish, 'Losers/Lovers' lives up to whatever hype that may have preceded Orchards. Its heartfelt melodies embrace pop sensibilities brilliantly, yet never strays too far from the band's youthful experimentation. Thoroughly consistent, 'Losers/Lovers' has provided Orchards with a solid foundation to prosper moving forward.
4.5/5
'Losers/Lovers' EP by Orchards is released on 6th July on Big Scary Monsters Records.
Orchards links: Facebook | Twitter | Bandcamp
Words by Sêan Reid (@SeanReid86)