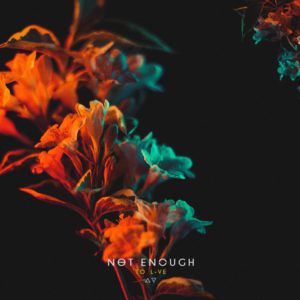 Hailing from Kraków, Poland, fresh-faced quintet Not Enough are hoping to cause a stir with their debut EP 'TO L-VE' which sees them blend clean vocals and screamo with elements of dark electronica. Formed in 2017, they describe their sound as "PVRIS meets metalcore" and also take influence from names such as Being As An Ocean, Northlane and Bring Me The Horizon.
'TO L-VE' starts off promisingly with 'Gemini', anticipation building with a slow, atmospheric beginning exploding into a variety of vocal work and subtle synth infusions which continue throughout the EP. The clean vocals aren't the strongest but are carried by Sergey Stovba's impressive, tearing screams.
'For How It Hurts To Forget | For How I Promised I Never Will' is an uneasy listen, with a sloppily mixed intro leading into seven uneventful minutes which drift with no structure. This track feels entirely experimental, randomly changing pace and direction every few minutes. Sadly, this holds the potential to make the listener want to switch off just two songs in. Afterwards, the raw heaviness supplied by Szymon Grodski's impressive drum work in 'Snakes' shines a glimmer of hope if you can again look past another very dragging introduction.
Title track 'TO L-VE' is the standout of this release, offering a fine balance between vocal and instrumental that the rest of the EP lacks and is carried by a poignant, memorable chorus. Finally, 'I Hope You're OK' offers some further refreshing relief with soft, sincere spoken word giving clear closure to an otherwise disjointed EP.
Not Enough no doubt have the potential to progress, but the EP has little structure with tracks being dragged down by unnecessarily long intros and sudden changes in direction, giving them limited chance to stand out on their own. While 'TO L-VE' is by no means a lost cause, its electronic pop infusions are the only thing that will save it from getting lost in the vast sea of similar releases.
2.5/5
'TO L-VE' by NOT ENOUGH is out now on Famined Records.
Not Enough links: Facebook | Instagram | Twitter
Words by Phoebe Messenger