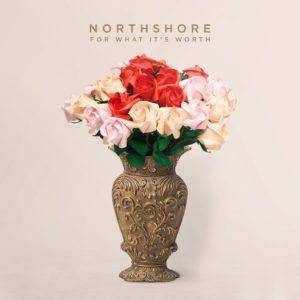 In the words of Northshore, 2018 "wasn't easy by any means" for the Middlesbrough pop-punks. Just as they built up to the release of their second EP, vocalist Ben Vickers left the band near the end of November, with personal reasons cited. 'For What It's Worth' had been recorded in Vickers' flat on the North-East coast.
A resulting air of intrigue surrounds the EP, the ex-frontman's voice delivering the lyrics that will now be performed live by bassist Dan Shepherd.
Certainly Vickers' flawless falsetto sections of the title track are impossible to ignore and it follows to lament that the band no longer boasts those talents, but the track's composition is subsistent. Melodic sensibilities abound and the guitar and drum production is noticeably polished for a self-release.
'Be Heard''s urges the listener to open up about anxieties, and the optimistic vibe is supported by an explosive barrage of riffs that have a summery feel. Speaking of which, 'Summer' has a head-spinningly reverb-engulfed section that is slightly underused, the track advancing to more straightforward overdriven sounds.
The hopeful sentiment also informs 'Shedding Skin'; "just because you were golden before doesn't mean you can't be that again." The applaudable message doesn't quite save a plodding, mid-tempo number however, and neither does the appearance of Christina Rotondo, although her voice isn't a bad fit by any means.
'Conspiracy' is similarly uninspiring and also overlong, a guitar solo and modulation feeling obliged rather than at all climactic or adding anything to the song. Neatly intersecting a cappella sections close it EP, however, with a certain sad poignancy to Vickers delivering the final notes of the EP.
'For What It's Worth' isn't earth-shattering but nor is it disappointing; it does what an EP should and provides a flavour of what the act will be capable of in future. It certainly has enough to spark to suggest Northshore will overcome recent bumps in the roads just fine, finding a more solid identity in the process.
3/5
'For What It's Worth' EP by Northshore is released on 15th February.
Northshore links: Facebook | Twitter | Instagram | Spotify
Words by Peter Stewart (@PeteStew_)