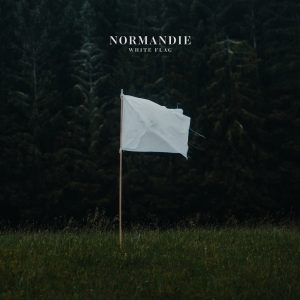 In 2016, Swedish four-piece Normandie released their debut record 'Inguz', gaining plenty of praise for their big, arena-filling rock-anthems akin to new-wave Bring Me The Horizon among others. Two years down the line, the quartet proudly presents their sophomore effort 'White Flag', a record that captures all the punch of its predecessor in a continuation of their strong sound.
As you may come to expect following on from 'Inguz', there's a handful of sing-along, big-crowd-at-a-festival-worthy choruses, and vocal splicing to hone in on the most important words of a song title, like on the flowing feasts of 'Dead' and 'Maniacs'. The vocal melodies are a particularly memorable and catchy element of the record too, with quick switches between sweet falsettos and full-throttle, bursts of intensity, like on '(Don't) Need You' and opener 'Ecstasy'.
While the production is very glossy, anything other or lesser than supremely tight production would mask the grand-rock style that Normandie are trying to create here. It works for the most part too, with the guitars consistently sounding beefy, the drums feeling like they're hammering into your eardrums, and the added elements of electronics creating an extra dimension of grandness that lifts the powerfulness of the record, on moments such as 'Heaven' and 'Enough'.
'The Bell' offers something a little different to the rest of the ballsy alt-rock, with the 1975-esque, multi-layered, harmonised vocals, amid gentle folk-sprung acoustic guitars. There's also a chance for vocalist Phillip Strand to deliver a verse in his native, Swedish tongue, which comes as a pleasant surprise. 'Keep Fucking This Up' has a similar pop tone to it too, with a hint of cowbell and a repetitively catchy chorus that's incredibly easy and enjoyable to keep revisiting. 
'White Flag' serves as a perfectly suited follow-up to Normandie's debut LP, albeit if it doesn't push too many new buttons. What the record does do, however, is stay consistent to its predecessors' quality and offers 12-tracks full of hooks, mosh-worthy moments and grandiose vocal belts for a live setting.
3.5/5
'White Flag' by Normandie is out now on Easy Life Records.
Normandie links: Website | Facebook | Twitter | Instagram
Words by Dylan Tuck (@DylanJTuck)