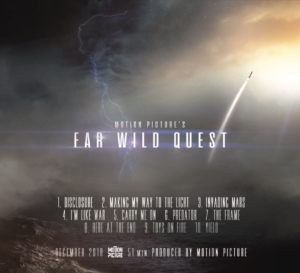 Motion Picture vocalist Pierre Couturier has warned against categorising the Québec band's debut album 'Far Wild Quest', and while not that unique, it certainly does stand out from the crowd.
As the group's name and the movie poster-style artwork suggest, Motion Picture inflect their grandiose rock with the tropes of film soundtracks. Similar expansiveness has been adopted by the likes of Muse and Thirty Seconds To Mars, but the orchestral elements are even more front-and-centre here.
'Far Wild Quest' is at times exhaustingly ambitious in the way it takes its ideas and runs. 'Making My Way to the Light' is swept along by strings and galloping drums, a sonic wall executed convincingly enough. But ambition must be backed by substance, and admiring the track's scope is one thing – finding an access point beneath a cinematic avalanche quite another.
However, access points are indeed present, with 'Invading Mars' more extensively using guitars to get its anti-war, galactic escapism message across. That level of ridiculousness takes on an enjoyable self-knowing quality when it comes with a big, belting chorus. Unsurprisingly, the track lengths frequently exceed the five-minute mark, with 'Toys on Fire' clocking in at a dizzying eight. It's hard not to breathe a sigh of relief when 'The Frame' ends at 3:42, such limitations in structure clearly beneficial as it is a highlight.
The other song to come in under four minutes is 'Yield', and again is all the better for it. A surprisingly affecting piano-touched soundscape, the strings swell and fall for one last time, Motion Picture's cinematic sensibilities no better applied than this tender moment. The only thing missing is rolling credits.
Many will not have the patience for 'Far Wild Quest''s mostly unshackled scale, but repeated listens do reveal instances of substance. Motion Picture tackle this ambitious project with a degree of conviction and never shy away from their atypical influences.
3/5
'Far Wild Quest' by Motion Picture is out now.
Motion Picture links: Website | Facebook | Instagram
Words by Peter Stewart (@PeteStew_)