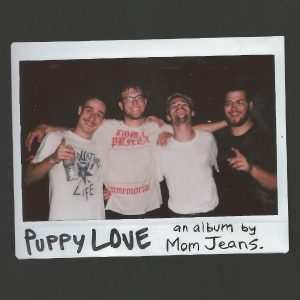 In recent years, it's difficult to think of a new act that has been as divisive as emo darlings Mom Jeans. Their self-aware take on millennial culture, self-loathing and friendship built the ground for 2016's 'Best Buds', an album that has managed to both lead a subculture of modern emo and unsettle long-standing fans of the genre. In perhaps the only fashion expected from the laidback gang of pals, the pressure to meet expectations on their follow-up hasn't made a big impact and they've stuck to their guns.
'Puppy Love' is radiating with as much relatable personality, post-relationship sadness and self-deprecating humour as its predecessor. Lines like "the only two things I can talk to are my dog and my PlayStation" are par for the course, and most of them are charming but can eventually feel exhausting. Even down to the track titles ("I left my towel at my friend's house and then they moved") their character is painted vividly and constantly.
There are great moments that feel like improvements on their past work. 'Sponsor Me Tape' crosses noisy guitars with poppier song-writing and includes an emotionally charged trumpet in the bridge. The drumming here (and throughout the project) is great, often taking advantage of punk-influenced patterns not really heard on their debut.
[bandcamp width=350 height=470 album=1561863671 size=large bgcol=ffffff linkcol=333333 tracklist=false]
A lot of the tracks feel like they may be suffering from a sophomore slump, but they consistently impress. A few seconds of worrying familiarity is often proceeded by creative musical flourishes. Initially, "near death fail comp" is worryingly reminiscent of their 2016 track "Death Cup", and "glamorous" also begins with an air of familiarity, something that is long-gone by the time the fun beck-and-call ending happens.
For fans, this is going to be exactly what they wanted. Its a band holding steadfast and exploring ideas that propelled their careers. But for people who struggled with the whiny lyrics and millennial references, there won't be any changes here to impress.
4/5
'Puppy Love' by Mom Jeans. is out now on Big Scary Monsters (UK) / Counter Intuitive Records (US).
Mom Jeans. links: Website | Facebook | Twitter | Instagram
Words by Sam Seaton (@citrus_music_)