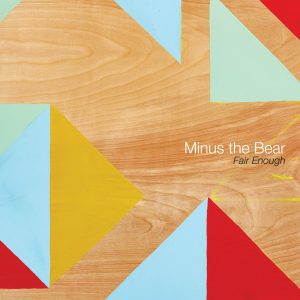 After 18 years, the Seattle based indie rock outfit called it quits in July of this year, with 'Fair Enough' being their swan song. Given that they are one of the highest selling artists on their labels Dangerbird and Suicide Squeeze respectively, a cult following in math rock/post-rock scenes and countless worldwide tours at massive mainstream festivals, Minus The Bear have a lot to be proud of.
Sadly, 'Fair Enough' is arguably the weakest release of their sizeable discography. Whilst by no means terrible, it lacks the quirky time signatures, subtle instrumental complexities and hard-hitting lyrics that the band is known for.  The opening title track thematically fittingly dwells on a breakup, as frontman Jake Snider croons: "Grief is the cost of love, and I'm not rich enough." The offputting vocal effects and bleeding synth sounds aren't particularly pleasant to listen to, and leave a lot to be desired.
Things however rapidly pick up on 'Viaduct' with its groove-laden bass hook and crowd-pleasing chorus. The satisfying guitar solo binds well into conventional rock territory, but you can't help but feel as if anyone could have written this, and doesn't do much to detract from its formulaic structure. Even near the end where there should be a big wall of noise building up with the satisfying riffs, it essentially just peters out with one last repetitive chorus refrain.
As Snider said in an interview with Stereogum, "touring when you're 27 compared to when you're 42 is a whole different ball game." Indeed, 'Dinosaur' appears to build on the idea of being jaded and waiting for the end to arrive. The noodly guitar lines here are slick and seductive, alongside a return to some of Minus The Bear's more intriguing ambient textures. The ear candy crescendo as Snider repeats the line "To end us all, you wait for it, the fire above our heads" feels like a breezy affair, you could picture him laying down in a field, watching the world collapse around him.
If you were already a fan of Minus The Bear then this final EP is a short but sweet addition to their genre-spanning career, however 'Fair Enough' doesn't come close to the grandiose send-off that would be expected of them.
2.5/5
'Fair Enough' by Minus The Bear is out now on Suicide Squeeze Records.
Minus The Bear links: Facebook | Twitter | Bandcamp
Words by Ashwin Bhandari (@GIVEUPOX17)