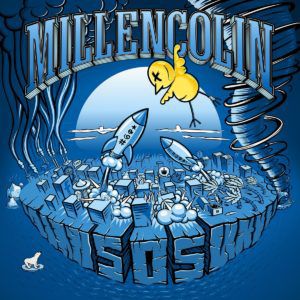 They might have been going for over 25 years now, but Swedish punks Millencolin show no signs of slowing down as their ninth album 'SOS', attempts to combine the heavier hardcore sound of their earlier albums with the pop-punk sensibilities of their 2000s releases.
It's certainly fast – opener, and title track, 'SOS', is a ruthless, a three-and-a-half-minute assault on the ears. The rapid guitar combined with the anguished cries of "The lights go out on tainted sky/An SOS is passing by" from frontman Nikola Šarčević create a sense of frantic desperation. It's a strong start from the quartet.
Naming a song after an internet meme – in this case 'Yanny & Laurel' – might be seen as a desperate attempt to remain 'down with the kids', but it works in this instance. The blend of melodic hardcore and straightforward hard rock makes it one of the more interesting tracks. It's followed by the equally impressive 'Reach You', as the album enters something of a purple patch. Next up is 'Do You Want War'. Anthemic with a capital 'A', Šarčević's vocals take on a rougher quality. The overdrive-laden riff at the beginning soon gives way to shouts of "Do you want/Do you want/Do you want war now?" over a throbbing drum beat.
It's hard to believe the amount of energy 'SOS' exudes. Take 'Trumpets & Poutine' for example. The relentless drums take it to another level – there's barely any time to catch a breath. These are guys coming up to their mid-forties, don't forget, but you wouldn't know it based on this evidence.
Millencolin continue to impress with 'SOS', adding another solid effort to their sizeable back catalogue. Okay, so perhaps it's not the most innovative release you'll hear this year. It's more tried-and-tested than brand new – but for fans of the band, in particular, they will doubtless be satisfied.
3.5/5
'SOS' by Millencolin is released on 15th February on Epitaph Records.
Millencolin links: Website | Facebook | Twitter | Instagram
Words by Adam England (@AdamEnglandSO)