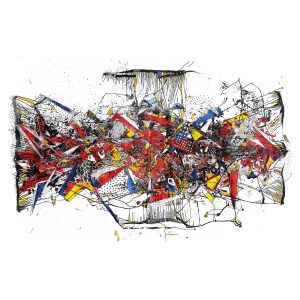 From the first jangly notes of noise of '[Untitled]', mewithoutYou's latest album sounds full of energy. Maybe not an active energy, but a tense, disconcerting energy like that of an unstable nuclear bomb. The Philadelphia band have realigned their poetic, experimental sound with some of the heftiest rock music we've seen them put out on their previous albums.
Lead single 'Julia' is a perfect example of how they have bottled this sound. It's littered with poetic, deep lyricism but balanced atop crushing shoegaze style riffs, and it pays off by feeling uniquely massive to them. The distorted riffs and pacing drums couldn't feel more distant from the vocals but perfectly work with the deep, wistful voices.
Later tracks 'Another Head For Hydra'  and 'Flee, Thou Matadors!' sees the band sounding like R.E.M fused with La Dispute, splitting their runtimes between driving guitar lines, a hyper-emotive vocal delivery that fluidly shifts from a declaration to a scream. The lyrics are colourful; their signature tool when it comes to vividly spewing out their detailed poetry. The latter of the two closes with dissonant tones that take brief glances at the psychedelic.
As a project, this album feels constantly introspective, but on 'New Wine, New Skin', it feels unbelievably philosophical. The central lyric of "Or is this truly how you'd choose to live: managing the narrative?" feels visceral, cutting and brutally meditative.
It's followed by the discordant 'Michael, Row Your Boat Ashore', which is deeply perplexing in terms of sound. Managing to suggest beauty and instil dread is a tough thing for one song to do, but the weighty, hazy track does that with little more than distorted vocals and ultra-smooth tones.
It feels totally wrong to try and compare this album to mewithoutYou's earlier works, but it's still the closest thing out there to this album. '[Untitled]' is an elusive beast, difficult to pin down and comprehend, but a total joy to experience and watch thrive.
4.5/5
'[Untitled]' by mewithoutYou is out now on Big Scary Monsters / Run For Cover.
mewithoutYou links: Facebook | Twitter | Website | Bandcamp
Words by Sam Seaton (@Citrus_Music_)