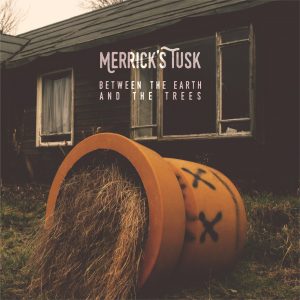 For the members of Nottingham four-piece Merrick's Tusk, the past three years have proven to be difficult, both personally and professionally, occasionally overlapping each other. Yet there is now a light at the end of the tunnel. Their debut album, 'Between The Earth and The Trees', is a record that sees a band sharper and coherent in their songwriting and execution.
On the surface, the quartet comfortably supplies an emotive post-hardcore sound that is reminiscent of the bands they spent their youth listening to; Hundred Reasons, Reuben and Hell Is For Heroes. While there is a hint of early-to-mid 2000's underground UK rock, 'BTEATT' is far from a nostalgia trip. As opening track 'Reform' shows, they have plenty of fire in their bellies with John Jeacock instantly bellowing "Reform, Refrain". It's a stirring introduction, setting the tone for what's to come.
Throughout Jeacock's lyrics weave in between a back group of personal insecurity (see 'Hold The Waves', 'Never Enough' and 'Untethered') and uncertainty, both within the band and politically. 'Blueprint' carries itself with Brexit-fueled undertones yet the blend of sturdy instrumentation and the rallying line of "We can rebuild, we can start again" exemplifies the resolute Merrick's Tusk show throughout 'BTEATT'.
Structurally, the quartet heavily relies on the expected quiet-loud-louder dynamic. For example, 'The Ache''s begins softly with gentle guitars before delivering one of the album's most powerful choruses. As a unit, and partly due to the input of producer Jason Wilson, Merrick's Tusk have become refined, allowing them to deliver more effective songs. Notable songs such as 'Persist' and 'Never Enough' are impactful and uncomplicated.
Despite 'BTEATT' being a coherent record, it doesn't quite match in leaving a lasting impression; there are signs of a band that still lean on their influences. Nevertheless, this can be forgiven as Merrick's Tusk should be proud of delivering a noteworthy debut. Overall, it's a concise and admirable collection of courageous and candid songs.
3.5/5
'Between The Earth and The Trees' by Merrick's Tusk is out now on Undead Collective.
Merrick's Tusk links: Website | Facebook | Twitter | Instagram
Words by Sêan Reid (@SeanReid86)