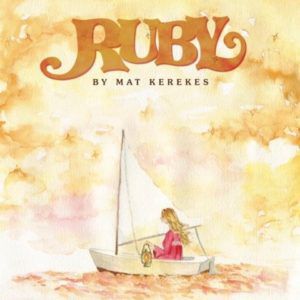 If you don't recognise the name Mat Kerekes, he's the singer of alt-rockers Citizen. If this little fact doesn't catch your attention, then his new album 'Ruby' certainly will. While it doesn't sound anything like his main band, the care and experience he gained with them is clear. Despite its acoustic foundation, it thrives with a full-band sound.
Under the mantle of solo singer-songwriter, Kerekes is free to try all kinds of new sounds. The titular track gives you a taste with its affecting vocal and a softly, soaring chorus, but it's an album of careful contrasts. 'Hawthorne' is bright and uplifting whereas 'They Appear At Night' is so very quiet, featuring soft female vocals singing "sleep well tonight", it evokes a bedtime kiss. Lyrically he keeps it honest enough to hold your attention but vague enough to be relatable and it proves just how skilful his songwriting is.
While Citizen's sound could put you on a downer, here the songs are optimistic. Just like when he strips things right back on the forlorn 'Autumn Dress', but also when he gets the toes-tapping on the stomping 'Spider Silk'. There's even a jaunty piano ballad in the form of 'Diamond' to brighten the day. Importantly, although varied, these different elements sit neatly together.
What helps set his work apart is the beautiful execution and the little details running through the performance. The subtle guitar licks and soft passages in just the right place make the songs shine. This is most apparent on 'Welcome To Crystal Cres', which brings plenty of noise to the table. It's a bigger, adventurous song and a huge contrast to what comes before, thriving on the crash of drums and almost frantic lead guitar runs. It's no less accomplished and adds to the overall experience.
'Ruby' is such a lovely record. It has allowed Kerekes to showcase his diversity. It's certainly one not to ignore.
4/5
'Ruby' by Mat Kerekes is out now on Black Cement Records.
Mat Kerekes links: Website | Facebook| Twitter | Instagram
Words by Ian Kenworthy (@WhisperingSand)