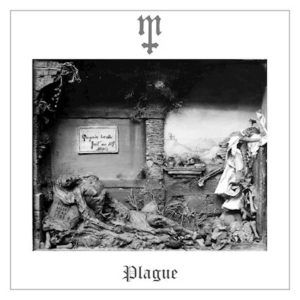 Ever since their inception in 2013, Hull's filthiest sons Mastiff have made it their mission to spread their miserable and mouldy doom metal across the metal landscape. Their debut record, 'Plague' harnesses their reputation for unrelenting and aggressive music that doesn't beat around the bush, Mastiff are surely capable of something great on this release.
The title of the opening track 'Hellcircle' is apt in the sense that this album sounds like the soundtrack of hell. Nightmarish industrial noises introduce the track for the first minute until the guitar feedback signals the start of the audible onslaught. The groovy, fuzz-coated riffs and savage drums shower the listener with an attack on the senses. Fast-paced 'Bubonic' is a wall of noise that locks you into a constant headbang. Not only that but by the time the lyrics "Eat shit and die" are screamed in unison, you become so angry that you want to throw a tv out of the window. This song defines their monstrous aura and their hatred for modern life.
The quickfire grindcore track 'Brainbleed' is rapid and leads nicely into 'Quarantine', which starts a slow-burning breakdown that leaves you infectiously breaking things in your immediate surroundings. The brutality continues on 'Vermin' with its sludgy, slow grooves akin to Code Orange's more recent work. The breakdown at the end of the song is a carousel of tempo changes and filthy noise.
'Torture' and 'Weep' carry on bringing the pain, but it's not until album closer 'Black Death' where Mastiff drag you through the dirt. This 9-minute epic slows things to a grinding halt, but the unrelenting aggression doesn't stop here. The riffs are so slow it's almost painful to withstand but you can't stop listening.
Mastiff have delivered something unlike anything that you have ever heard. This album leaves you wanting to hit the streets and cause chaos. Long may they reign as the kings of the underworld.
4/5
'Plague' by Mastiff is released on 1st February on APF Records.
Mastiff links: Facebook | Twitter | Bandcamp
Words by Dylan Whitty (@rootsinwax)