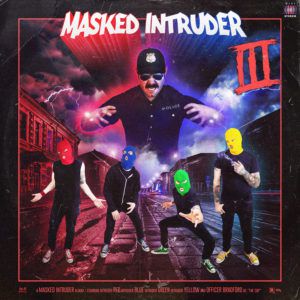 Is it a bird? Is it a plane? No, it's Wisconsin's Masked Intruder returning with their inventively titled third album 'III'. These four crime-fighting pop-punks never reveal their identities, preferring to operate under the monikers Red, Blue, Green and Yellow, the colour of their balaclavas. Yes, the whole thing is one great big gimmick, but there is no denying they write a catchy tune.
A-la the Ramones, they present their pop-punk as teenage love songs with three chords and the occasional metal-style solo. It's all fairly juvenile but what they lack in toilet humour, they make up for in dubious crime references. Take the lyrics of 'Not Fair' which mixes together a refrain of "If you'll be my girlfriend" and "Maybe we, could rob a bank or three", it's hardly deep, meaningful stuff, but that's part of its charm.
Over the twelve songs it's surprising how many ways they can disguise the same formula with a riff here or there, like the bright and bouncy approach used on 'Just So You Know' or by switching the vocals to a soft croon with a smattering of doo-wop, like on 'I'll Be Back Again Someday'. Yet, despite using Weezer as a touchstone, they certainly don't try anything you haven't heard before. It's all delightfully shallow. Even wearing a mask can't disguise that.
This time around Less Than Jake bassist Roger Lima handles production duties and under his tutelage, the guitars sound crunchier and far less claggy than on earlier releases. The vocals are more delicate, making for a bigger sound than even previous EP 'Love and Other Crimes' and with such simple music, it makes a massive difference.
So despite not pushing the genre, or even their sound, anywhere new, the record is one big sugary treat. From the moment the riff of 'No Case' explodes out of the gates, you know 'III' is peak Masked Intruder. Shallow, cheesy as hell and bags of fun.
3/5
'III' by Masked Intruder is released on 1st March on Pure Noise Records.
Masked Intruder links: Website | Facebook | Twitter | Instagram | Bandcamp
Words by Ian Kenworthy (@WhisperingSand)