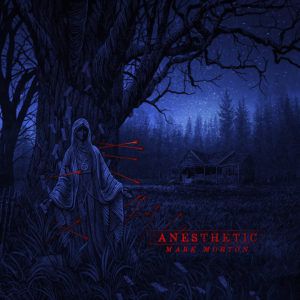 The primary guitarist/songwriter for Virginia groove metal outfit Lamb Of God has snuggly secured his legacy in metal for over 30 years, abrasively crafting his signature guitar tone and influencing countless heavy artists over the years.
A month before this album was released, Mark Morton stated that he didn't want it to be "just an album full of smelly dudes", which given the genre's traditionally macho sensibilities is a bold stance to take.
That being said, the roster of artists he has chosen to collaborate with on 'Anesthetic' all come from notable backgrounds, such as Jacob Shaddix of Papa Roach, Myles Kennedy of Alter Bridge. Nevertheless, the only woman to contribute vocally here is Alissa White-Gluze of Arch Enemy.
The opener that gives 'Anesthetic' the biggest amount of hype is 'Cross Off'. As one of Linkin Park's Chester Bennington's final musical contributions before his passing, it has everything that made his vocal style so iconic. His hybrid of raspy screams and saccharine melodies flawlessly fit alongside Morton's guttural riffs.
The main problem lies with the fact that this record fails to be remotely interesting with Morton's grizzly metal instrumentation with lazy, generic hard-rock tropes. It feels like he is trying to cram in different 'classic' flavours of metal, in the hope that his thrashy riffs will be enough to satisfy listeners. 'Sworn Apart' and 'Imaginary Days' in particular sound like bland main stage noise you'd hear aimlessly walking around Download Festival. It's hard to figure out who this album is really for. If it truly is for metal fans, chances are they'll be disappointed with the softer hard rock cuts, despite the solid instrumental performances here.
'Anaesthetic' comes across as a Lamb Of God B-Sides karaoke album, ham fished with cliched, early 00's tropes. If there weren't such big names attached to this record, it would be mostly forgettable.
2/5
'Anesthetic' by Mark Morton is out now on Spinefarm Records.
Mark Morton links: Facebook | Twitter | Instagram
Words by Ashwin Bhandari (@GIVEUPOX17)