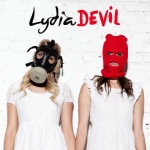 Despite being in existence (other than a short hiatus) for a decade now, Arizonians Lydia have never quite broken into the big leagues. 2008's essential 'Illuminate', a wonderful album, has assured them a solid fanbase, but now on their fifth full-length, Lydia may be seeking a more venerated name for themselves. Although it boasts a sinister moniker, 'Devil' sees Lydia continue in the more melodic and sunnier vein of previous album 'Paint It Golden', and its incomplex sound displays a considerable effort to attempt to replicate the successes of peers such as fun. However, do the breezy and airy vibes of 'Devil' suit the quartet more than the autumnal hues of 'Illuminate'? It's an admirable effort, but one that sees them slip into American college-rock twee clichés (or, if you will, tweechés) far too often.
Lydia are formidable songwriters, it's just sometimes the waft of Gorgonzola from these tracks can be a little much to handle. Opener 'The Exit', for instance, is a powerful number, but one you can't help but think would be perfectly suited soundtracking an emotive moment on Fox teen melodrama The OC. When hearing 'Back To Bed', I can't help but think of this Romance On A Rocketship "classic", a genuine contender in the "worst song ever" stakes – not necessarily their fault, but ruins an already fairly weak song.This record isn't terrible by any means, they've just become a little pallid and characterless in their efforts to find fame; and though this record came out in March, this is the first I've heard of it, so it can't have made much of a mark.
There are a few brief moments when this record shows a little grit, such as on penultimate number 'Take Your Time', the first sign of a distortion pedal anywhere on this record, and shows they're still a little in touch with their rawer, more emotive side. Frontman Leighton Antelman possesses talent in his vocal chords, but the band sorely miss the input of Mindy White (now of States), as without the variety White provided, Antelman's vocal only augments the blandness of this record. Despite their employment of a wide range of instrumentation, including a banjo on (thankfully not Mumford-esque) 'Runaway' and an organ on 'From A Tire Swing', 'Devil' does not possess a multi-dimensional sound, and ultimately becomes little more than musical wallpaper.
'Devil' serves its purpose as an accessible spring/summer record, but is far too throwaway to match up to emotional heavyweights like 'Illuminate'. Sure, bands change in 5 years, but the Lydia of 2013 have played it far too safe here – their lack of edge and substance has made them generic, and, if I'm allowed to compare a record store (as if anyone goes to those anyway lololol) to a Neopolitan ice cream, choosing 'Devil'over most things would be like opting for vanilla over strawberry and chocolate – it tastes nice, but irregardless, is the unstimulating option.
2.5/5
'Devil' by Lydia is out now.
Words by Ollie Connors (@olliexcore)