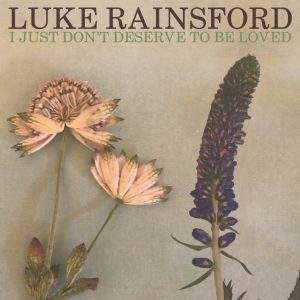 With a title like 'I Just Don't Deserve To Be Loved', there's a fairly certain expectation of what to expect from Luke Rainsford's newest EP. Indeed, he's been leading the charge of the UK's ever-growing crop of acoustic pop-punk and emo artists, particularly with the acclaim garnered from the deeply personal songwriting of his second full-length 'I Feel At Home With You'.
Now, ruminating on the death of his mother, 'I Don't Deserve To Be Loved' is another strikingly personal release. That primarily comes in the abundance of plain-spoken catharsis in coming to terms with loss on 'Looking For Your Ghost' and the disdain towards empty well-wishers at her funeral on 'An Open Letter'. Throughout, there's a certain level of flatness to Rainsford's vocals to highlight the numbness of it all, and it really does lend this EP a remarkable sense of pathos. Only to be ended in the best possible way with the glimmer of hope on 'What I Hide Beneath'.
Of course, that becomes more important than the actual instrumentation, but there's still a richness to these arrangements that has more body than a spare, acoustic setup. Chiming pianos and muffled drumbeats form a backbone that's ultimately sturdy, but still pliable enough to mould around Rainsford's acoustic work. This is apparent on tracks such as the more upbeat pop-rock of 'Sweet Briar'. It's not groundbreaking by any means, but it makes for a more subdued, insular release. There's certainly a lot of warmth and likability to it.
But really, the crux of 'I Don't Deserve To Be Loved' is its intent. As a tribute to a lost loved one, this hits all the necessary spots. As beneficial as a little more diversity could be, there's a lot of charm and heartfelt sentiment here that's hard not to like. Rainsford has buckets of charm and personality that he exudes effortlessly.
4/5

'I Just Don't Deserve To Be Loved' EP by Luke Rainsford is released on 6th April on Scylla Records.
Luke Rainsford links: Facebook|Twitter|Bandcamp
Words by Luke Nuttall (@nuttall_luke)