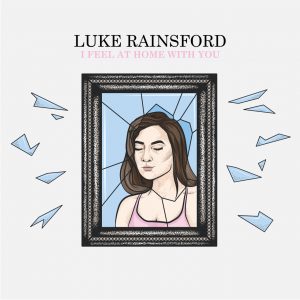 Luke Rainsford certainly wears his heart on his sleeve on this confessional second album that smoothes the scars of mental health issues. Although the acoustic singer-songwriter act is hardly anything new, and the chords are as old as time, Luke's songs are so humanly honest that it makes for a thoroughly compelling listen.
Despite the opening track being called 'All My Songs Sound The Same', its instantly catchy acoustic punk doesn't set a template, it's one of a variety of styles that Luke explores here. For instance, there's bright indie pop on 'Home Safe', featuring some lovely orchestration at the end, a touch of folk on 'Cliche' and some confessional melancholy on 'Burned', which meanders along to a gorgeous percussion sound.
The subtle nuances of the percussion are a stand out feature of 'I Feel at Home with You'; whether it's the nice easy shuffle on tracks like 'Fingernails' and 'Nightmares', or the upbeat rough edged pop of 'Ties' with its powerful climax. 'Hell Bent', meanwhile, wanders from bleak tenderness, through a lazy meander to a rolling cry for help.
Although everything on here is highly likeable, it is the closing tracks that follow the ukulele ditty of 'Boy Meets Girl, Writes Song' that really make this record special. 'I'm Bored of Being Heartbroken' deals with being in love while battling demons, yet its bright, breezy and instantly enjoyable, despite its self deprecation. Stark contrast to 'Bury Me with Nothing to My Name', a downbeat melancholic slice of catharsis. Then there's the emotionally charged 'Frame' which is tender and involving, the sublime percussion sends shivers through the listener before the heartbreakingly raw confession of 'I'm The Coward I Never Thought I'd Be', which brings everything to a profoundly moving close.
Luke has delivered an album of subtly shifting textures that tackles some difficult issues with a compelling honesty and deep understanding that belies his tender years. Nevertheless, it is also very entertaining and resonates with a sense of hope that keeps it bright – superb record.
4.5/5
'I Feel at Home with You' by Luke Rainsford is released on February 17th on Scylla Records.
Luke Rainsford links: Facebook|Twitter
Words by Edward Layland (@EdwardLayland)