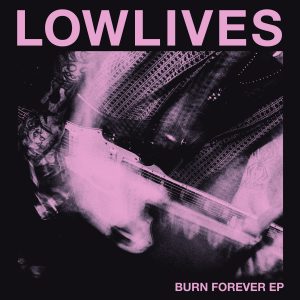 Los Angeles based alt-rockers Lowlives have only been a band for just over a year although they certainly don't lack experience. Featuring Lee Villain (ex-The Defiled frontman), Luke Johnson (Amen, No Devotion, Beat Union), Steve Lucarelli (The Ataris) and Jaxon Moore, the band have landed themselves a Maida Vale session, a forthcoming appearance at Leeds & Reading, followed by a support slot with The Used. They're also set to drop their debut EP, 'Burn Forever'.
Opening up with the title track, we're treated to an initial onslaught of noisy feedback which effectively builds up some tension before breaking out into stomping Nirvana-esque guitars, with thundering drums racing us through the beat. Once the vocals start, they're raw, sneery and full of rock attitude. By the time it gets to the catchy chorus, it's easier to see why they'd be a good choice for that Used tour.
With a series of impressively long screams around the two and a half minute mark, 'Black Hole' is a heavy, guitar-driven onslaught, dripping with post-hardcore angst and dissonant, melodic chorus hooks. It's third song 'Thieves' which is possibly the heaviest of the collection, however, hitting us with those grunge vibes and killer screams again – how does he hold his breath that long, really? There's also some neat use of effects and echo on the vocals, and a spoken word sample in the breakdown. The snare is punchy and relentless, the rhythm section driving solidly throughout the song.
The EP ends with an acoustic version of 'Burn Forever', which shows off their versatility, highlighting Lee Villain's vocal abilities.
Final song aside, these tracks are big and in your face. Lowlives mean business, and it's easy to see why they're attracting some attention already. Despite being a new band, their individual experiences show Lowlives have tonnes of potential and their full length, whenever it comes, will be interesting to hear.
4/5
'Burn Forever' EP by Lowlives is released on 31st August.
Lowlives links: Facebook | Twitter | Instagram
Words by Becton Simpson (@swallowmyeyes)