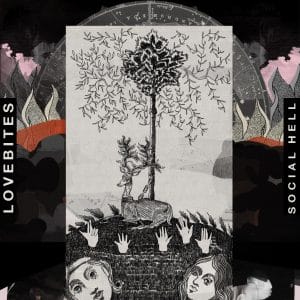 Right, let's start by stating this isn't the all-female Japanese metal band that this Birmingham quartet shares the same name with. Although both have a flair for the occasional riff, the latter has a history with its members coming from SHARKS, Foes and Octane OK.
Formed just over a year ago, Lovebites' debut offering, 'Social Hell', comfortably takes the classic British rock 'n' roll sound of influential names such as The Who and The Police, and combine it with a modern social commentary. Its four songs have traits that make them each stand out and concise simultaneously.
The opener, 'Tick Along' gently trickles in before erupting with strutting guitars, a stomping tempo and a brooding undertone. While vocalist Jack Perry sets out a heart-on-your-sleeve, us vs them tone that threads the EP together.
Considerably 'Duppy' brings the EP alive with its punk-fuelled energy and soaring melodies, and although it's bound to see Lovebites be compared to the Gaslight Anthem, it just about has enough going for it for them to stand alone. Nevertheless, when coupled with 'Just Fall' and its stirring guitar solo and promising chorus, the four-piece show consistency.
Rounded off by the title track, rumbling drums and a sarcastically playful chorus of "if all goes well, we can live in a social hell" ends the EP on an encouraging note. While the guitar tone wouldn't sound out of place on a peak Oasis B-Side.
Although Lovebites are still a work in progress, 'Social Hell' has hints of potential. Alongside a couple of memorable hooks, their overall musicianship serves as the glue that keeps you interested throughout. Given time, they should organically shake off the comparisons, putting a fresh lick of paint on a classic sound.
2.5/5
'Social Hell' EP by Lovebites is available now on Sabbath City Records.
Lovebites links: Facebook | Twitter | Instagram
Words by Sêan Reid (@SeanReid86)