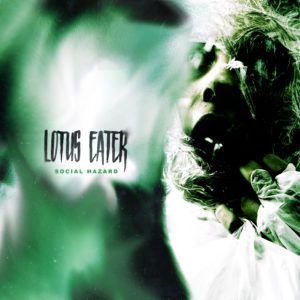 Glasgow's local street rats Lotus Eater are back to shed the light on the grim landscape they call home with their new EP 'Social Hazard'. Having signed to Hopeless Records last year, their goal is to bring you into their way of seeing things – a world without hope.
The nightmare starts with 'Thug', a short instrumental that serves as a quaint introduction to what Lotus Eater have to offer – down-tuned grooves, painful breakdowns and all-out hysteria. 'Yuck' starts off as a Meshuggah track that flows into a groovy verse, followed by a metalcore-style melodic break, and then into some Slipknot style chugging. The intricate melding of influences on this shows a band that isn't afraid to experiment.
'The Fear' is a song that is designed to slam your head against the door – the beatdowns contained within this monstrosity are perfectly executed and will make your blood boil with anger. 'Freak''s sprawling descent into madness sees the band offer up a slab of the gloomy aura they thrive on. The eratic nature of this track realy does send the listener into a frenzy, and is a perfect accompaniement to a crowd of moshers.
'Mother' continues the warpath with eerie verses that create suspense, backed by single guitar notes that strike through with ease. The song ends on a tempo-shifting slam, with the breakdown picking up the pace as each bar comes and goes.
Clean vocals creep in on 'Jawless', giving a welcome, but brief, juxtaposition for what's to come as the brutal Glasgow mob make a searing comeback, with polyrhythms and chugging riffs that deliver the final knockout to those listening. The ferocious record finally lays to rest.
After this showcase in all that is heavy, it is safe to say that this EP is worth your time. Lotus Eater have brought an uncompromising incursion of misery, filth and obscurity upon us. Once you're done with this, you will be immersed into Lotus Eater's land of doom and gloom.
4/5
'Social Hazard' EP by Lotus Eater is out now on Hopeless Records.
Lotus Eater links: Facebook | Twitter | Bandcamp | Bigcartel
Words by Dylan Whitty (@rootsinwax)