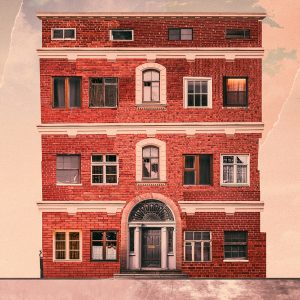 "I'm glad you're back, it's been a while," 'Island's title track fittingly observes.
Living With Lions formed in 2009, but haven't released an album since 2011's 'Holy Shit'. The departure of founding lead vocalist Stu Ross the following year meant uncertainty, and an interim of relentless touring meant a long stretch without new material.
Consequently, LWL will be new to many a pop-punk fan. But their experience – both of making music and of life – means the angle of their work is a far cry from that of a fresh-faced rock band. 'Island' was made with the socio-political challenges faced by their hometown of Vancouver in mind.
Shades of this permeate the record: even standard breakup song 'Second Narrows' mentions the Saltwater City in both title (referring to Second Narrows Bridge) and lyrics: "I found a way around the town that I grew up in". The track might be the best on 'Island', and appropriately shines brightest from its bridge onward.
The urgent feel to 'Hastings Sunrise' aligns with the urgency of pressing issues in East Hastings, the city's downtown eastside. Singer Chase Brenneman has said that addiction and mental health issues plague the area – the track describes the situation as "black on black". The music is engaging enough to give these issues some much-needed exposure.
LWL show a knack for a chorus that recalls their friends and fellow Canadians Seaway, fans of whom will sink their teeth into the sharp 'Dusty Records' and 'The Remedy'. Studio engineer Kyle Black (Boston Manor, Comeback Kid) delivers warm, full-bodied guitars, while Brenneman's vocal is crisp.
As a comeback, 'Island' couldn't really have been a more suitable announcement of Living With Lions' presence. There are big tunes, and it is the sound of a band who have been doing it for nearly a decade. The only thing to lament is that there hasn't been more of the same in the meantime.
4/5
'Island' by Living With Lions is out now on Redfield Records.
Living With Lions links: Website | Facebook | Twitter | Instagram | Bandcamp
Words by Peter Stewart (@PeteStew_)