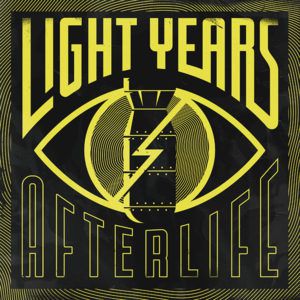 In a way, Cleveland's Light Years belong to another time. The kind of pop-punk they play could have been written a couple of decades ago, itself a shunning of the 'new school' in favour of stylistic particularities that would be dead and buried were they not surviving in an 'Afterlife' provided for them by bands like Light Years.
And the band made up of Pat Kennedy, Tommy Englert, Andrew Foerst and Kent Sliney make no apologies for resurrecting this sound, almost taking on a classic feel these days: simpler than simple mid-paced rhythms and warm, layered Hoppus-esque vocals delivering references to quaint things like radios.
The rock 'n' rolling 'Back Then' gets to the nostalgic point straight away: "We were young and dumb and a little fucked up back then / but I wouldn't change a thing." A faint piano provides a nice touch to the rollicking opener.
'Afterlife' is best when it's having up-tempo fun – when 'Bottom of the Ocean' slows things down it nearly grinds to a halt, the descending chord progression and dud melody fast becoming a drag. Far better is 'Graveyard', which is punchy enough to forgive nonsense such as "just hold your breath through the graveyard", and 'Bottle Rocket"s incisive riffing, handclaps and smooth hook.
Light Years show they can change it up somewhat with 'Burning In My Blood' and its sledgehammer melody, while Englert's bass gets a brief star-turn in the album's most memorable tune.
It's initially hard to identify real substance or repeat-listen value in Light Years' third record, but elevating it is a surprising, simple sadness no better encapsulated than in the closing 'If I Knew Then': "I knew then what I do now, maybe everything wouldn't be so bad".
Perhaps their stubbornly vintage sound is just part of a longing for once-absent foresight, and who among us can't relate to that?
3.5/5
'Afterlife' by Light Years is out now on Rude Records
Light Years links: Facebook | Twitter | Instagram | Bandcamp
Words by Peter Stewart (@PeteStew_)