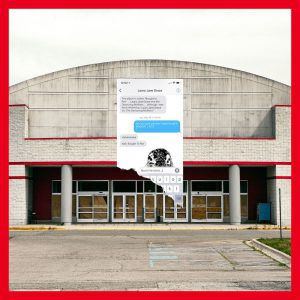 Laura Jane Grace's personal life was the prominent focus of Against Me!'s last two albums after coming out as trans, so it's no surprise some respite from the barrage of a deeply personal subject is needed. This comes successfully in the form of Laura Jane Grace & The Devouring Mothers. An Americana album straddling the edges of punk, country and rock, 'Bought To Rot' is an easy listen, with simple refrains ("On top of the world at the end of the world with you" – 'Apocalypse Now (& later)') and a relaxed sound.
Opener 'China Beach', which sounds more like spoken word than lyrics for the most part, speaks to you like a casual conversation with a friend. Drawing you in, it paves the way for the following tracks including 'The Airplane Song', juxtaposing descriptive verses ("There's an airplane with an empty seat […] You're not there drinking white wines complimentary") with simple, to-the-point choruses.
Tom Petty has been cited as an influence, but there are other varying similarities to other bands. 'Amsterdam Hotel Room', for example, has the lo-fi guitars of The Strokes while 'Born In Black' is reminiscent of The Gaslight Anthem. This variation is replicated in the topics of the songs. 'The Friendship Song' is an upbeat, down to earth track about friendship, while 'The Apology Song' is a slower, melancholy number on a broken relationship.
The boring reality of mental illness is soundtracked by the droning intro to 'Manic Depression'. Grace speaks over the repetitive chords, narrating its monotony. It's a contrast to the melodramatic 'I Hate Chicago', a swearing bout of anger confessing "this is actually just another divorce song". 'Screamy Dreamy', featuring a different vocalist, provides breathing space.
In comparison to the music Grace has created elsewhere, it is doesn't feel as immediately energetic as we've come to expect. Delve deeper, however, and listen to the lyrics and it's just as emotive, with the same ferocity Grace does so well.
3/5
'Bought To Rot' by Laura Jane Grace & The Devouring Mothers is released on 9th November on Bloodshot Records.
Laura Jane Grace & The Devouring Mothers links: Twitter | Instagram
Words by Kathryn Black (@kathrynblack07)