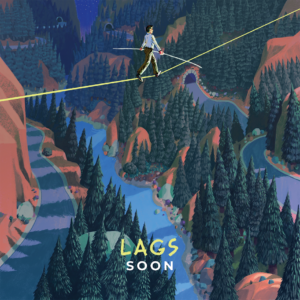 When you think of Rome, you may think of history, religion and culture, but from now on you should think of LAGS. The post-hardcore quartet built a cult following by playing debut album 'Pilot' throughout Italy and, having signed with new label Casu Marzu Records, they're ready to release long-awaited second album 'Soon'.  The good news is, they've taken the indie-rock influenced post-hardcore sound of their debut and pushed it in a slightly different direction, making for a catchier, livelier record you won't want to miss.
Kicking off with a confident take on their debut's sound, 'Knives and Wounds' is a raucous start, but after the brash noisy opening things quickly settle down. Falling back on an elegant mix of driving guitar twangs and recurring vocals, it's reminiscent of the early 2000s garage rock scene, even recalling bands like Franz Ferdinand. It's particularly notable on the almost pop-rock 'What It Takes', with its smooth refrain of "We started a war" but importantly, the brighter tone doesn't dim its edge and in fact, sharpens it.
Part of the album's appeal is how it twists the influence of bands such as Boysetsfire and Hot Water Music into something distinct. Though it favours an accessible sound, you can still hear their post-hardcore roots, be it in Daniele De Carli's grubby bass or the boisterous attitude, which extends to Antonio Canestri's vocals. He uses a distant-sounding bark on songs like 'Magic Bullet' but he's most powerful on 'Echoes', where he softens his gruff tone to a warm and enticing croon. Similarly, the careful way he emphasises words during choruses is heartfelt and creates surprisingly effective hooks. Nowhere more so than album highlight, 'Showdown'; streamlined and almost anthemic.
So, yes LAGS may have relaxed their sound, but in doing so, they've settled on a style which is bright, distinct and honest, offering enough clout to bring them to a wider audience.
4/5
'Soon' by LAGS is released on 29th March on Casu Marzu Records, To Lose La Track and Fuzzy Cluster Records.
LAGS links: Facebook | Instagram | Bandcamp
Words by Ian Kenworthy (@WhisperingSand)