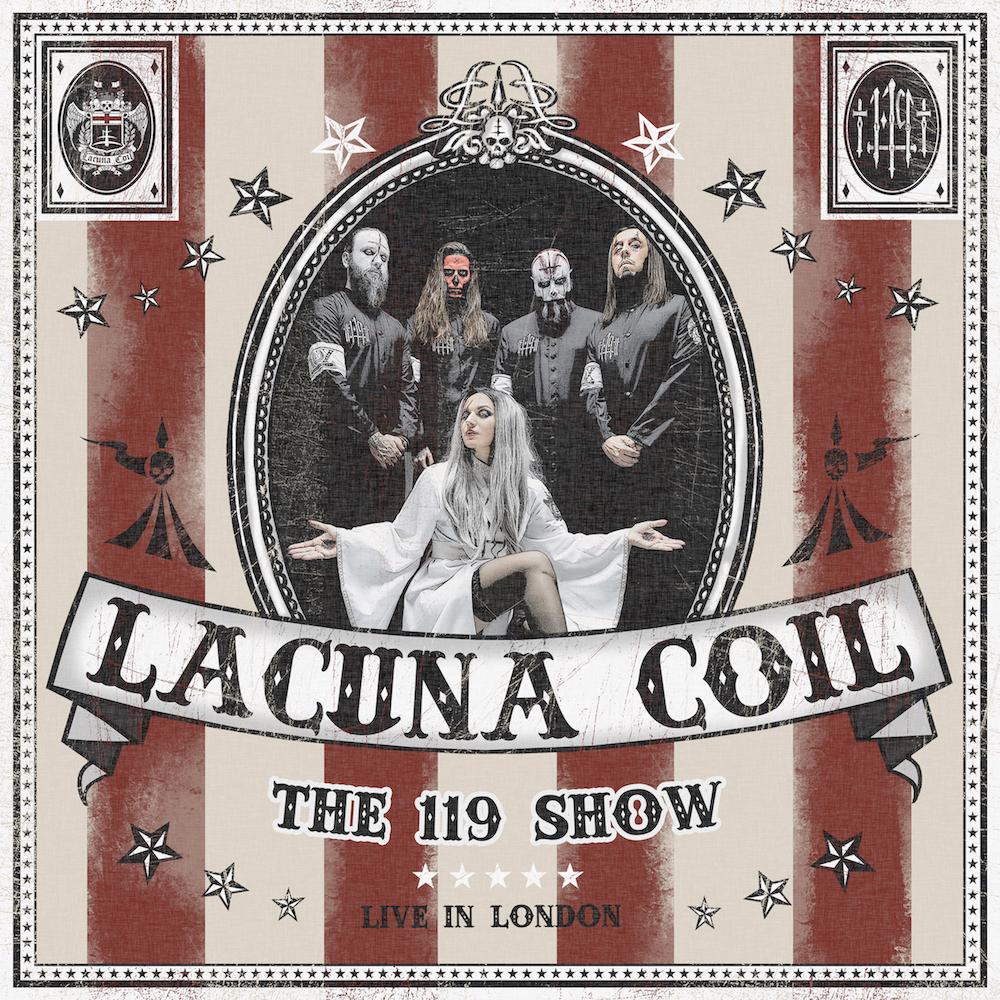 In January this year, Italian metal band Lacuna Coil performed a special circus-themed show at the O2 Forum, the culmination of 20 years releasing music. On Blu-ray/CD/DVD set 'The 119 Show – Live In London' they invite you to relive their celebrations.
With eight albums and two EPs to choose from, it's great that the 27-song set culls from every release. Older songs like 'Veins of Glass' and 'Hyperfast' sit remarkably comfortably alongside newer material, no doubt a result of the line-up reshuffle prior to most recent album 'Delirium'. Sole guitarist Diego Cavallotti plays slickly and Marco Coti Zelati's grumbly bass takes up the slack, but the real stand-outs are original vocal duo Christina Scabbia and Andrea Ferro.
If you've never caught the band live, you need to hear this. Their voices easily match the studio recordings, often eclipsing them. Just one example is hearing Scabbia belt out 'Swamped', it's spine-tingling. Similarly, on '1.19' Ferro sounds his guttural best. Newer song 'Blood, Tears, Dust' allows the whole band to show off not just their talents, but their song-writing skills too. During 'Nothing Stands In Our Way', two hours and sixteen minutes later, they still sound on top of their game.
https://youtu.be/pftNuEdALXA
The video element is solidly filmed, adequately capturing the band's energy. You see all the action, especially as it's all so nicely edited.  You're not getting anything quirky like guitar-mounted cameras, which works in its favour. Occasionally the visuals are marred by a profusion of purple lighting, but it doesn't spoil the experience.
Unsurprisingly, for a band who have a touring wardrobe for each era, their style aesthetic remains intact, feeding into the overall circus theme. This reaches its zenith on the instrumental 'Intermezzo' when they bring out the clowns, turning the performance into a real show. Clearly, this was a night to remember and a worthy celebration.
Overall this is an excellent set and if you're a fan, you won't want to miss it.
4/5
'The 119 Show – Live In London' by Lacuna Coil is released on 9th November by Century Media.
Lacuna Coil links: Website | Facebook | Twitter | Instagram
Words by Ian Kenworthy (@WhisperingSand)