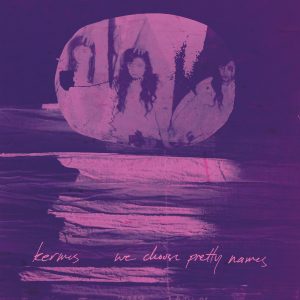 The queer-punk-slash-indie-punk scene has seen an almost meteoric rise in recent years, running concurrent with an increased interest in debates surrounding identity politics and gender. Often, the genre finds itself straddling the line between punk-rock and twee, ground that has been trodden on countless times before, making for a sound that can sometimes be a little worn out. Still, the subject matter is important and personal, and will usually be treated as a separate entity to the music.
Leicester's Kermes are a band that have aligned themselves with this movement through their DIY touring and 2016's 'You See Others Seeing You' EP. That release saw them discuss themes of transgender identity, misogyny, and queer relationships (to name but a few). Now, two years on, their debut full-length, 'We Choose Pretty Names', builds upon these themes and gets even more personal.
Their DIY sound comes across instantly in opener 'I Wanna Be Yr Sometimes', and runs throughout the album. It perpetuates the band's earnest image and serves to mimic the atmosphere at one of their shows. The vocals are raw and range from indie harmonies to screeching emotional breakdowns from line to line, both effortlessly and unpredictably.
For the most part, each song rattles along a formulaic track for indie-punk, with each song blending into the next with the exception of some notably experimental tracks, like the borderline-shoegaze 'Boyfriend', and the post-punk influenced 'Time to Shut Him Up'.
Where 'We Choose Pretty Names' shines is on its lyrical content. Personality seeps out of every line Emily Rose Teece sings, creating a relatable atmosphere across the whole album. She sings of transformation in nature on the title track, from great landmasses to small insects, and shouts out "I'm not sorry for the state of my body" on closer 'Yr Beast'.
An honest debut album from Kermes sets them up for a dedicated fanbase. Relatable to sufferers of identity dysphoria, yet bouncy enough to be accessible, Kermes should look poised to be a big name in the queer-punk scene.
3/5
'We Choose Pretty Names' is released on 13th April on Robot Needs Home.
Kermes links: Website|Facebook|Twitter
Words by Ben Mills (@BenMills28)