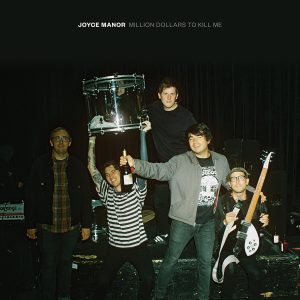 In the seven years since their iconic self-titled debut dropped, Joyce Manor have sonically changed a lot, but they've always been discernibly themselves. Over the years they've transitioned from punk-tinged rock to heart-crushing indie and influenced a generation of current emo bands on the way. Their music has tastefully aged as they've progressed, and their latest album 'Million Dollars To Kill Me' is their most mature yet.
The title track is the most reminiscent one here of their older hits. The best Joyce Manor tracks in the past have leaned on (often brutally) honest analysis of relationships and self-evaluation, and this is no exception. The lyrics look at someone who doesn't appreciate the relationship they're in, and the darkness that surrounds that. Vocalist Barry Johnson delivers lines like "You are nothing without her, you're an asshole" with such calmness that the vicious meaning would almost feel lost without the distorted guitars backing it up.
His signature vocal performance sounds perfectly emotive throughout the album, every feeling given out throughout is genuine and powerful, even in more subdued moments. 'Think I'm Still In Love With You' manages to bounce between energetic deliveries and scathing honesties. "Take a bunch of pills and crash into me" is thrown away in a way that almost doesn't acknowledge its poignant power.
While they bring out these punkier, energized songs ('Fighting Kangaroo' and 'Friends We Met Online' are stand-outs), they also double down on the toned down, acoustics tracks hinted at on their last album. The finger-picked gentleness of 'I'm Not The One' is less of a breather than you'd expect with its speedy melodies and ruthless lyrics.
Joyce Manor's return doesn't likely incite another wave of emo revival but instead succeeds at pushing the group towards an impressive sound as they approach a decade of existing. They continue to be undeniably themselves, and rather than sounding like petering out, they're re-adjusting themselves to continue comfortably.
4/5
'Million Dollars To Kill Me' by Joyce Manor is out 21st September on Epitaph Records.
Joyce Manor links: Website | Facebook | Twitter | Bandcamp
Words by Sam Seaton (@citrus_music_)