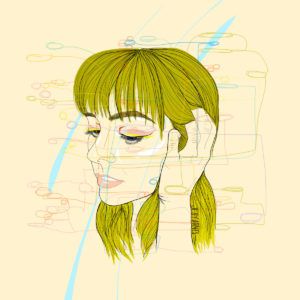 Ohio's Jetty Bones, the solo project of Kelc Galluzzo, is well-known for catchy pop songs with an alternative edge. The third EP, '-' (Hyphen) experiments with more electronic elements than before, and coupled with Galluzzo's impressive lyrical ability, '-' sees Jetty Bones come into their own.
'better.', the EP's opening track effortlessly utilises both kit drums and electronic pads. The vocals are clear and powerful, enhanced by subtle reverb effects. The additions of guitar licks and soft keys tie the song together, making it feel complete.
True to form, Galluzzo has created an EP that is a unique take on both love songs and pop music. For example, 'Bringing It Up' effectively uses heavy guitars and a simple melody, while the upbeat nature of the music will encourage listeners to sing along. Galluzzo shows impressive vocal control throughout, as she effortlessly moves from powerful high notes to delicate soft ones.
'Bringing It Up' is countered by the electronica-centric 'the part'. Again, Galluzzo's vocal is powerful and reflects the nature of the song, and the addition of a computer-generated spoken word to wrap up the song is an interesting move.
Honesty is a recurring theme in Jetty Bones' lyrics, as heard in 'the part:', and '(jogging)', as well as others. Taking things back to basics, '(jogging)' focuses on vocals and delicate acoustic guitars, before growing into an upbeat and bold track featuring stunning harmonies. The modest instrumentation works to add a new dimension to '–', and suggests eclectic influences.
Despite being a relatively short EP, '–' leaves an impression. Jetty Bones' lyrics are central to creating their identity; the frank nature and delicate vocals tie together the diverse range of tracks that compile this EP. Jetty Bones mixes and matches music genres to create something exciting and fresh; each song offers something subtly different and '-' is clear proof of the progress Jetty Bones has made.
3.5/5
'– '(Hyphen) EP by Jetty Bones is released on 22nd February on Take This to Heart Records.
Jetty Bones links: Facebook | Twitter | Instagram | Soundcloud
Words by Dottie Giles (@DottieG19)