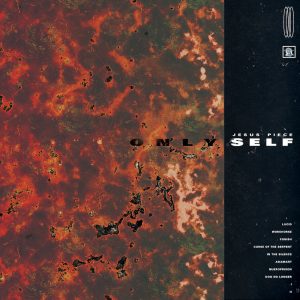 Who would have thought being pummelled in the face by distorted guitar riffs would be so enjoyable. However, that is exactly what Jesus Piece have achieved with their debut album 'Only Self', which right from the get-go is a brutal assault on your eardrums.
The Philadelphia five-piece have gained a reputation as being one of the heaviest bands around right now, and this record lives up to the mantra. Within 30 seconds of 'Lucid', vocalist Aaron Heard's growing roar pierces through the chugging riffs and pelting drums.
When heaviness is your gimmick, it can be easy for the music to become repetitive and stagnant. With raw vocals and beatdowns being at the forefront. Yet, for Jesus Piece this is not the case as the formula of 'Only Self' is one of twists and turns, and even at times unexpected surprises. From the pure onslaught of 'Dog No More' to the completely stripped back and raw 'In The Silence', the band doesn't seem to fit a generic cookie cutter mould.
What makes
Jesus Piece
's brand of heaviness even more intruding, is the way the band switch up rhythms, whether it be from song to song, or in some cases, mid-song. They can go from pure ignorant chugging to sweeping riffs to really technical hectic riffs. This is not dull, formulaic beatdown music, but when the breakdowns do come they seem not so rushed and adapt very well to the respective songs.
After being completely brutalised by the first eight tracks, the closing pairing of 'I' and 'II' show Jesus Piece are by no means a one trick pony. The first is a three-minute atmospheric instrumental track that segues into 'II' with its doom-frenched guitars and haunting blasts with Heard's voice woven in.
It is no surprise that this record has been so highly anticipated. It's heavy, its got a load of riffs and it will make you want to punch your fists through a wall.
4.5/5
'Only Self' by Jesus Piece is released on 24th August on Southern Lord Records.
Jesus Piece links: Facebook | Twitter | Bandcamp
Words by Tim Birkbeck (@tim_birkbeck)