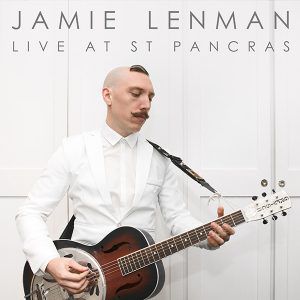 Jamie Lenman, known for his work with Reuben in the 2000's and his recent solo work, sat down in a church in St Pancras on the release date of his debut album: last year's excellent 'Devolver'. A crowd of dedicated fans was treated to an exclusive acoustic set, covering his discography (and with a Cyndi Lauper cover thrown in) as well as a slew of interesting Q&A moments. Now, the recording is out for all to listen, and we can get a look at what went down 'Live at St Pancras'.
The Q&A segment takes up the first half of the release, and it's a satisfying experience for Lenman fans. His charisma and eccentricity are given a chance to shine, and his less accessible sounds feel openly deconstructed. Anything that could feel intimidating about the moustached frontman is dissolved with his honest comment. From a plan to release a rap album to his tales of being paid in pizza for features, he is engrossing and comfortably paints himself as a quintessentially pleasant musician.
Highlights from 'Devolver' are scattered throughout the setlist.  An energising performance of 'All Of England Is A City' comes through early to set the bar high, still delivering hard-edged riffs and powerful vocals in the stripped back setting. 'Mississippi' feels primal in this setting, trading thunderous noise of a full band for passionate and precise solo fury.
'Money Changes Everything', originally by Cyndi Lauper, is reimagined by Lenman as a dark indie tune, a heart-breaking anthem that feels comfortable in the tongue of the singer. Reuben classic 'Tonight Your Wife Is My Wife' feels sensible in a calmer environment, transformed into an emotional, powerful ballad.
Lenman works hard to reimagine his songs for the crowd and is unafraid to get them involved in his performance. It's uniquely weird but this set is incredible for anyone on his wavelength. Things feel more personal, powerful and make for a fitting celebration to a great album.
4.5/5
'Live at St Pancras' by Jamie Lenman is out now on Big Scary Monsters.
Jamie Lenman links: Website | Twitter | Facebook | Bandcamp
Words by Sam Seaton (@Citrus_Music_)