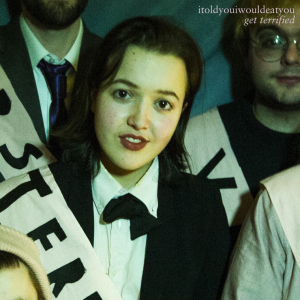 Since releasing their 2016 EP, 'I Am Not Your Fault', the indie-punk/emo collective known as itoldyouiwouldeatyou have grown in stature and confidence (and probably in numbers too). Over the course of the past nine months or so, ITYIWEY has dropped a hat-trick of singles to keep them in our consciousness. 'Get Terrified' sees those singles brought together along with a disjointed closer. But more on that later.
The title track calmly opens proceedings with its twee harmonies, plucky guitars and rich brass swells. Described as "a love song about class consciousness", it sees Joey Ashworth plead for acceptance as they unleash a tirade of angst – "Did you plan me when you made the world? Do you know my pronouns?" Complimented by a full band punk-fuelled assault, it's an addictive opener with a commendable structure.
'Mourn' stylistically follows a similar pattern, yet the intimate guitars are delivered with charm as they drift along while Ashworth questions "How did you know know the deceased?" Like 'Get Terrified', its fiery conclusion is definitely rewarding.
'Divine Violence' is considerably ITYIWEY at their most confrontational as Ashworth touches upon on being alienated as non-binary and bisexual and centrism in the current British political climate. Guitarist Josh See's atmospheric finger taps and Sean Westall's textured drums serve as the backbone to the stirring number. It's clear ITYIWEY aren't afraid to incorporate various genres as 'Divine Violence' ends in a flurry of post-hardcore angst.
For those hearing ITYIWEY for the first time, these three tracks are an ideal introduction to their blend of thought-provoking lyrics, genre-blending style and pop sensibilities. Yet when it comes to 'Off Brand', things take an uneventful turn. Produced by vocalist/sampler Holly Readman under her 'NALA' moniker, it's a detached finale that wallows in disengaging electronica.
Besides that minor blip, the future for itoldyouiwouldeatyou is bright. 'Get Terrified' flourishes with musical richness and the beginnings of a band finding their own identity.
3.5/5
'Get Terrified' EP by itoldyouiwouldeatyou is released on 20th April on Alcopop! Records x Failure By Design Records.
itoldyouiwouldeatyou links: Facebook | Twitter | Instagram | Bandcamp
Words by Sêan Reid (@SeanReid86)